👋 Hi everyone,
I'm Mick, and today I am going to show you how to start a blog in 2020. Creating a blog is a great way to share information, ideas, and keep yourself accountable to goals (not just keto!). The great thing about the internet is that ANYONE can participate to make something special. When we started Keto Karma, we never envisioned what it would turn into, but it has been an amazing outlet for our urge to create and help as many people as possible.
We are often asked how we started Keto Karma, so I am putting together some tutorials so that you can learn how to start a blog in 2020. When creating a blog we recommend starting with Bluehost since it's an easy all-in-one solution.
Disclosure: I earn a commission from Bluehost if you use my referral link to make a purchase. Thanks for your support.
Who Is This Guy?
My name is Mick, and I am Suzanne's husband and tech guy behind Keto Karma. When we started Keto Karma, I knew I wanted to set up a tech corner to show others how to build a blog, website or app. I've made the decision to work full time on Keto Karma and Defy Foods as CTO / Tech Guy of both companies, so I figured it's now time to start laying a foundation for our tech corner.
I am a self-taught software engineer and I've helped create and build experiences at Visa, MyFitnessPal, Box, and other Silicon Valley based companies. I am a full stack engineer with a passion for UI development, leadership, and topics surrounding growth mindset.
Be sure to check back, as I will continue to publish how to build more advanced features as you build your blog.
Start With An Idea
Today, we are going to cover the 4 most important topics of building anything on the internet. Whether it is starting a blog, online store, application, or anything else you can dream up!
Give your idea a name
Get hosting with Bluehost
Create your home (your blog) on the internet
Decorating your new internet home
Following these 4 steps will help you build out your next idea in no time. Soon, you'll be on your way to learning how to start a blog in 2020 and you will become a craftsperson of the web starting with small projects and building bigger and better ideas! I look at building on the web somewhat akin to being a carpenter, except instead of a hammer and nails, you will be using bits and bytes.
Name Your Idea
This is one of my favorite parts of building after you have that big idea. When coming up with a name, we talk about exactly what we want to accomplish with the website or product. Suzanne had a strong desire connect with others, and to tell the world about keto, and that's when Keto Karma was born. Once you have a rough idea, I would recommend heading over to Bluehost and check if the name or some variation is available.
Starting A Blog At Bluehost
Now that you have an idea and name, it is time to make it a reality by heading over to Bluehost and signing up for one of their hosted WordPress plans. In my opinion, starting a blog with a hosted plan is the best way to start to ideate and make something big happen. When we started Keto Karma, I set the blog up using a more complicated platform, this was a mistake.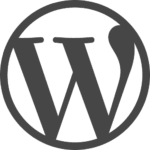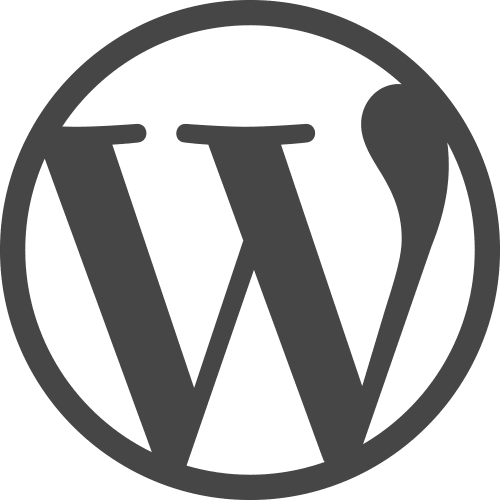 I quickly found that when you are building something, it is best not to invest too much time on implementation and more time making your dream a reality. I found that moving to a shared WordPress instance was the way to go while we were building out our idea. Learn from my mistake and start simple, with software that has a vibrant community like WordPress.
Getting started with Bluehost is a breeze and we can go ahead and select a package to get started with. I would recommend selecting the Choice Plus package, will give you everything you need to get started securely. It's very important to get the free included SSL certificate as whatever you build should be secure from the start.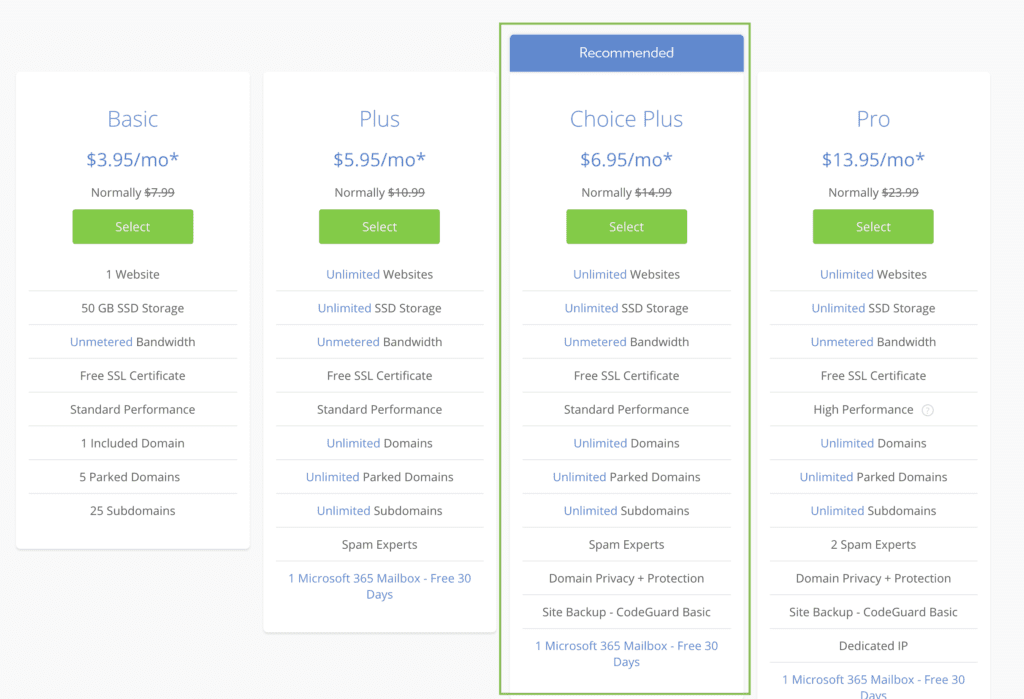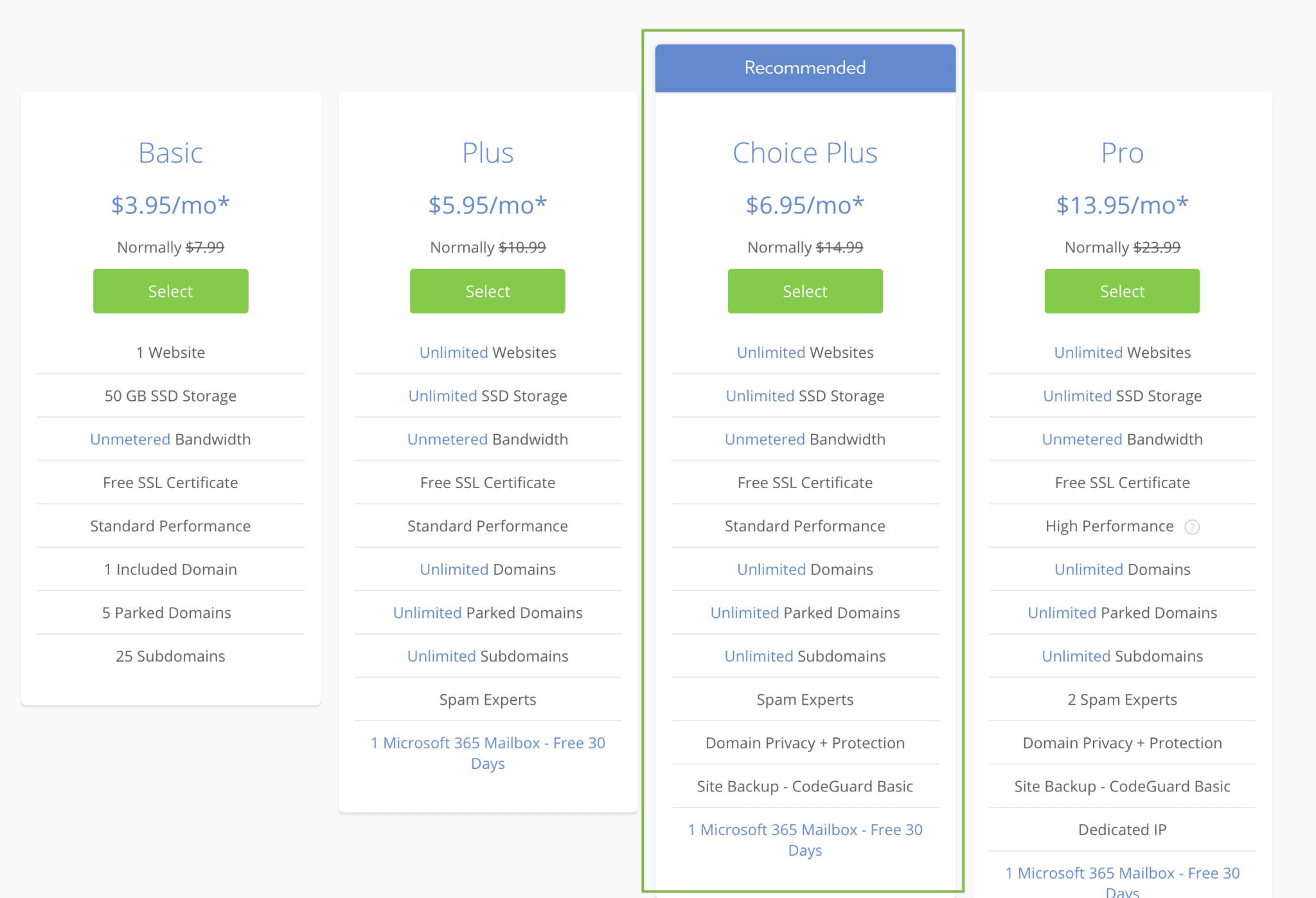 Once you have selected a package you will be prompted to either enter a domain you own, or register a new domain with Bluehost (see Give your idea a name) and since the package you have chosen includes free domain names it's the perfect time to create a new domain.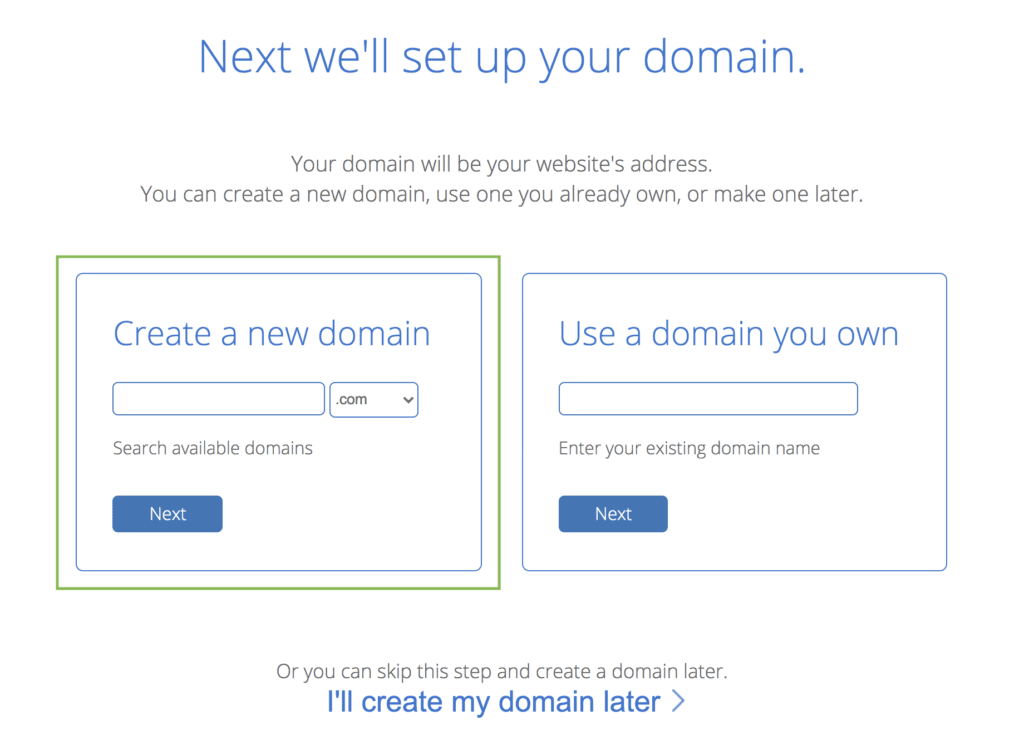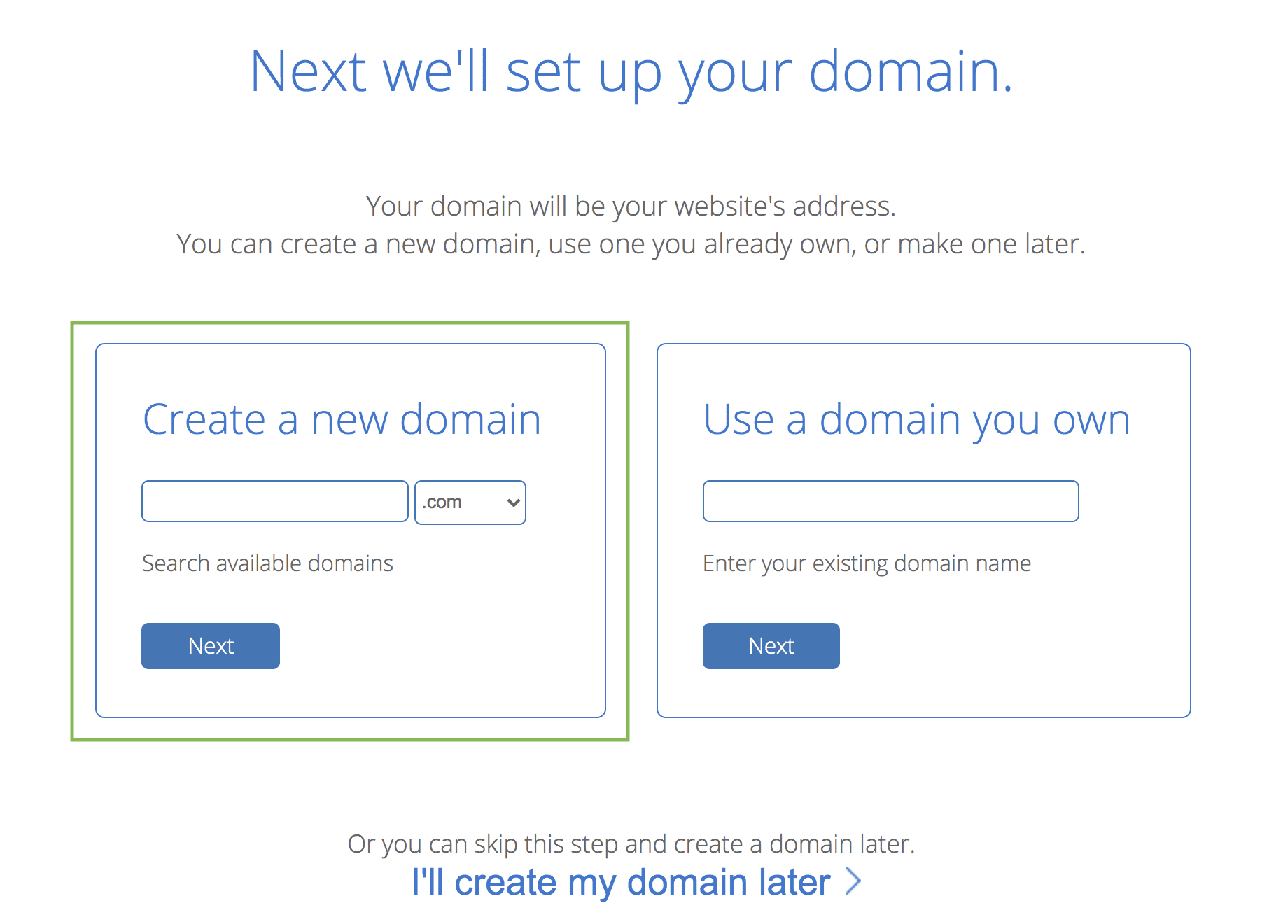 Package confirmation and entering payment information is the next step. This is also where you can see Privacy guard and Let'sEncrypt SSL is included in your package.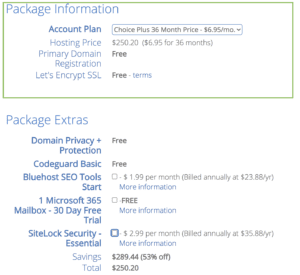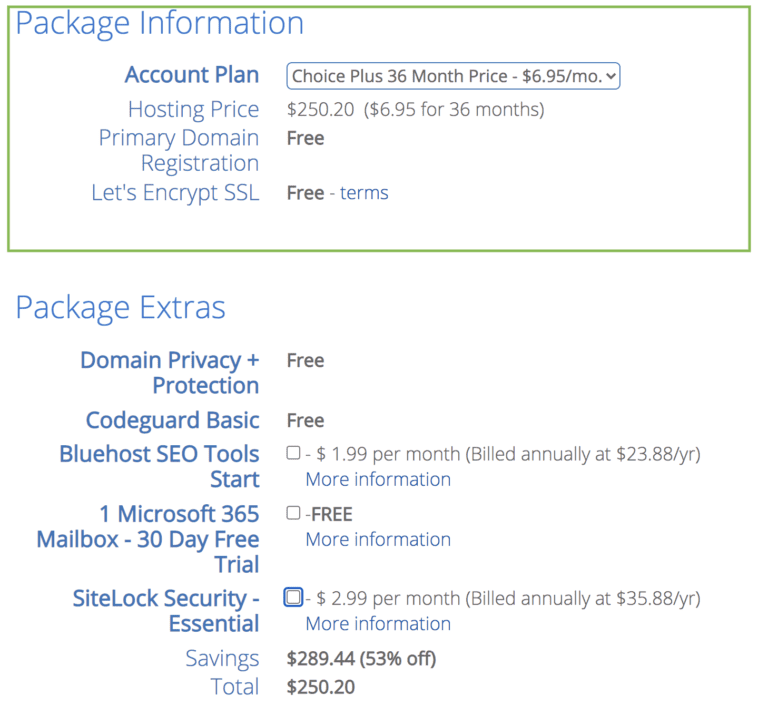 Create Your Home On The Internet
It is time to follow the really helpful setup wizard that Bluehost provides. The setup wizard will ask a few questions about the intent of your site. these questions are meant to get the right plugins installed to make it easy to start blogging. I selected Blog, Lifestyle, and Myself because it was more relevant to my interests, but feel free to try your own settings!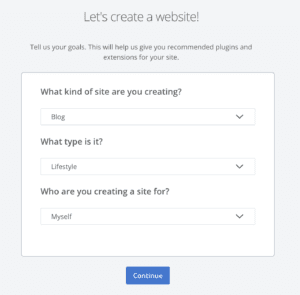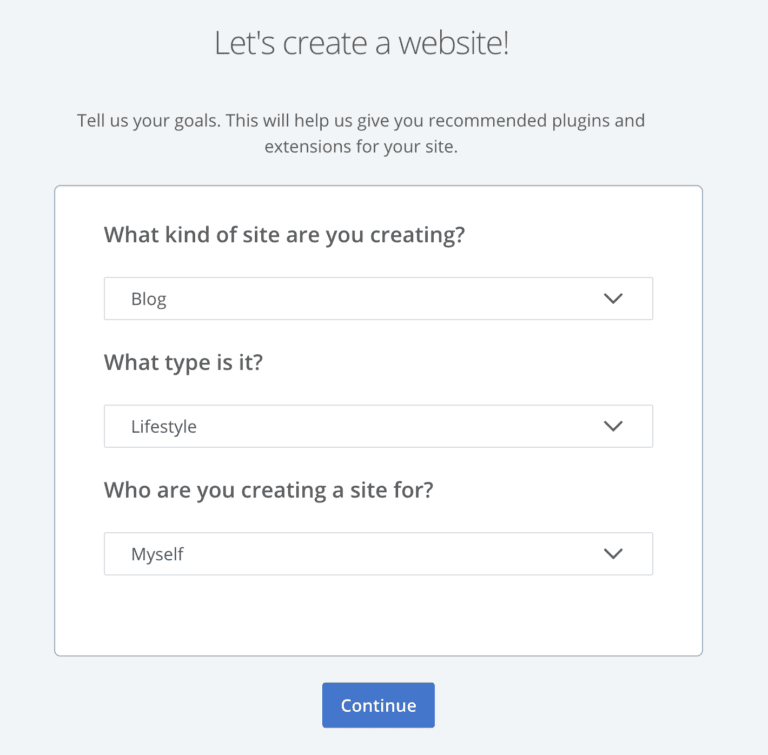 Next, the options of what can be added to your site will be presented. This is where WordPress will be installed and you can also specify an e-commerce solution if you are looking to sell a product online. Choosing Blog is sufficient to get you started with blogging and uploading your ideas to the rest of the world.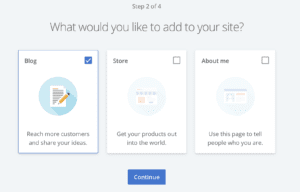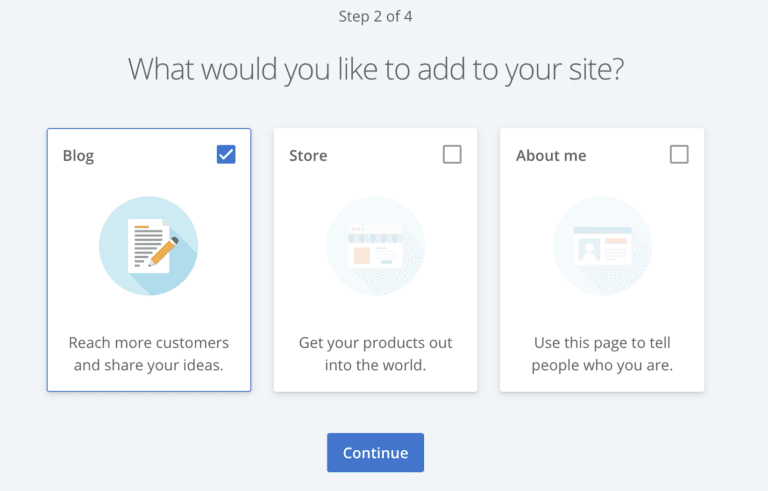 The next step is where you start to personalize your blog. You will want to add your catchy name you came up with and also a tagline for your site. Tag lines are usually something your blog will be known for or a "Call to Action" to get others interested in your idea and content. I recommend keeping the tag line short and sweet to entice others into seeing your idea at work.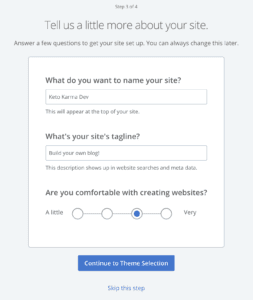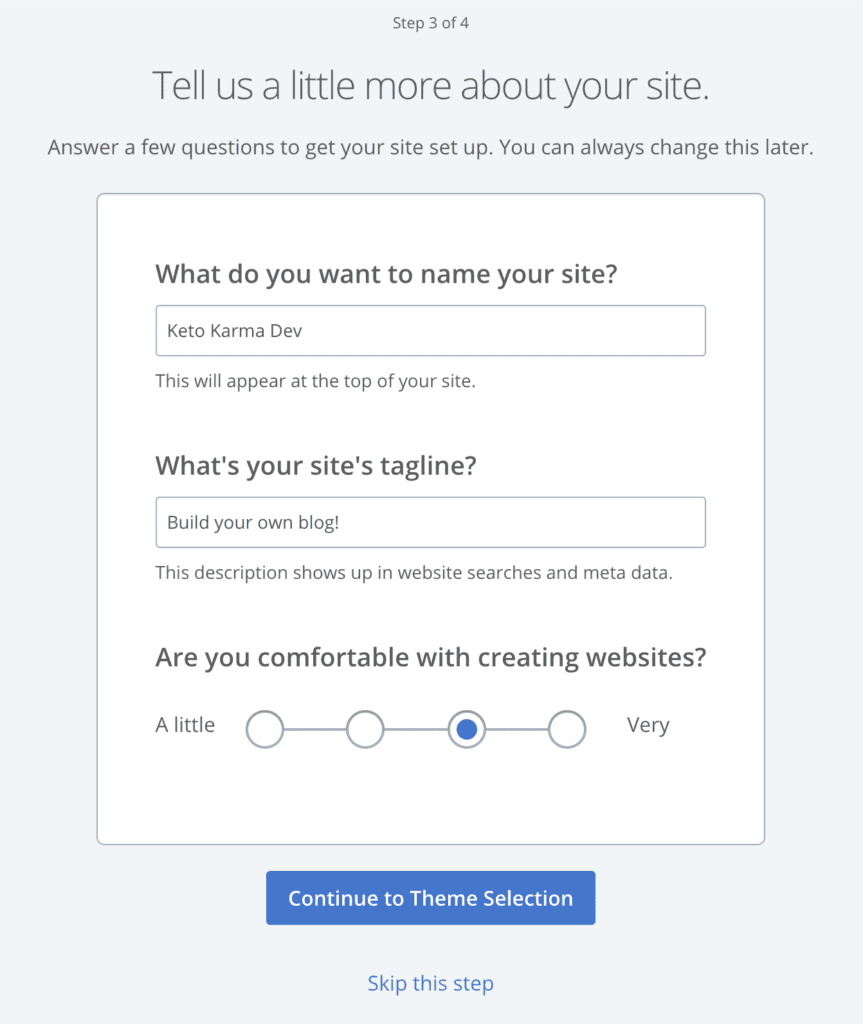 Bluehost has an enormous offering of Free and Premium themes to make your site look amazing. My recommendation is to get a premium theme so your site so you can start to set yourself apart. I look at it like your house, you want it to fit your style and be personal to you.
All Set Up And Ready To Go
Once you complete the onboarding steps you are ready to start blogging. Bluehost will present you with a getting started dashboard that will help you figure out your next steps will be.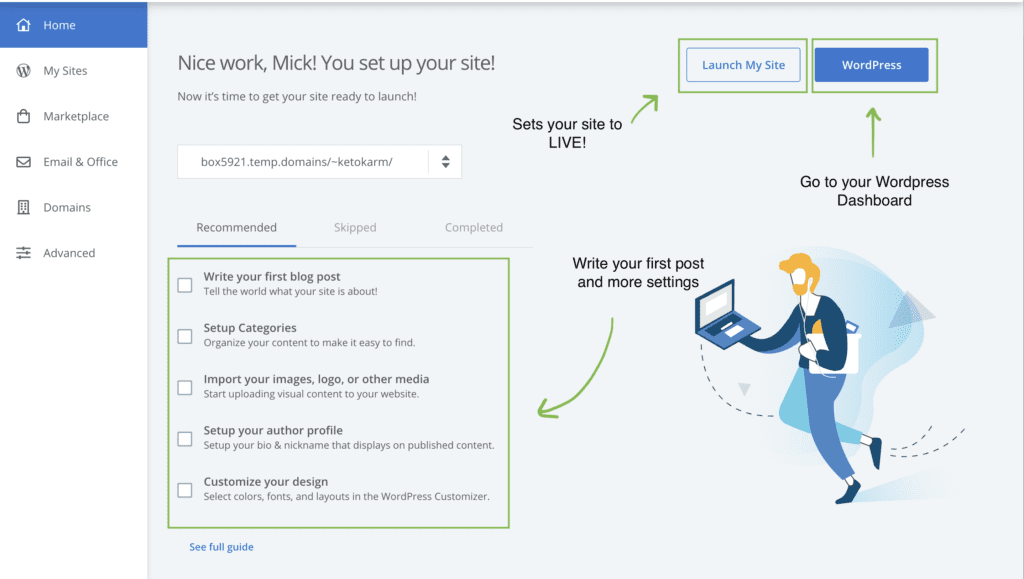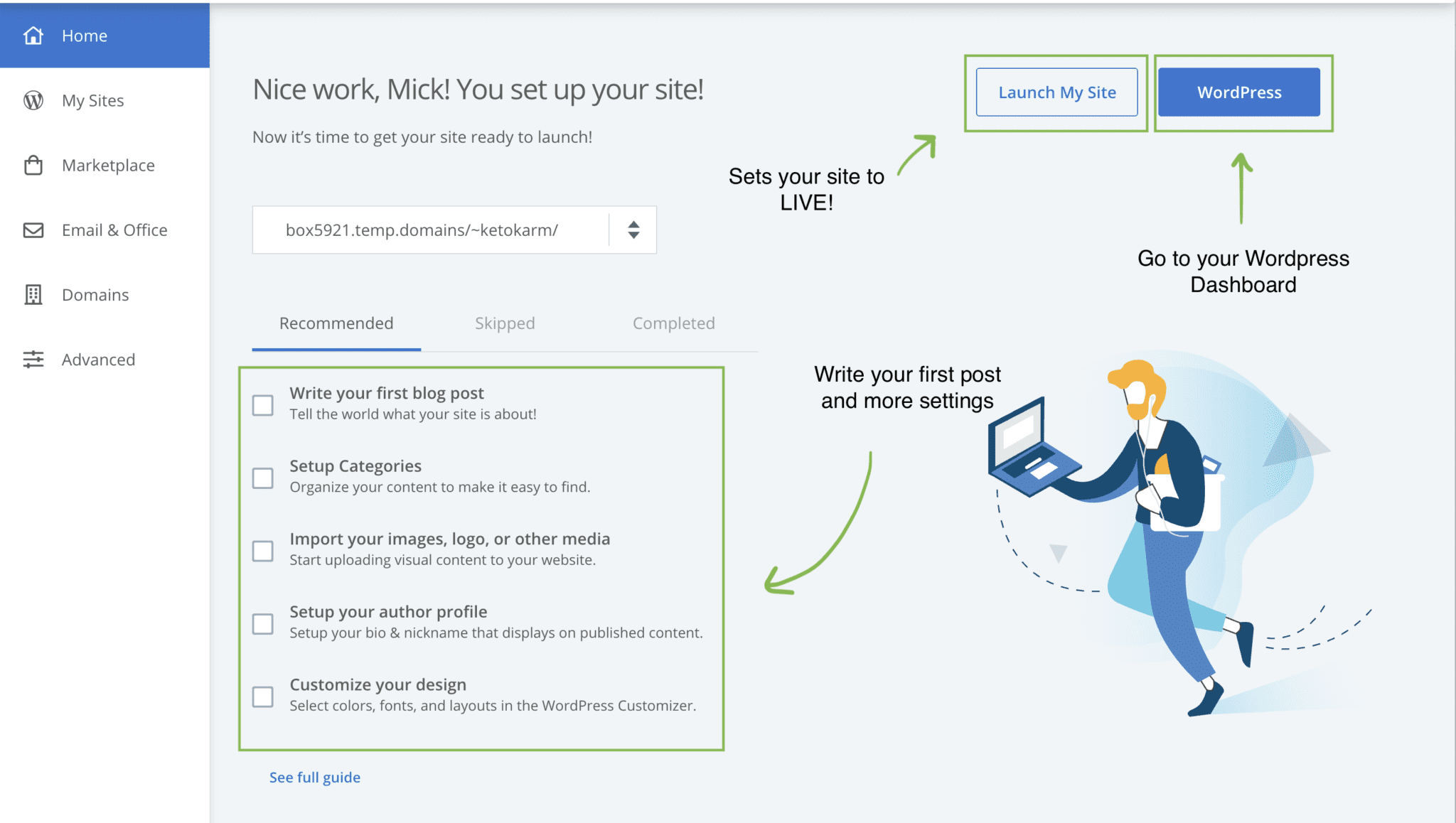 What's Next?
In future articles I will show you how we leverage technologies like PHP, Vue js, Docker etc. at Keto Karma to bring you a great experience. I'll also teach how to set up your own domain, building your first layout, and how we built our calculator using Vue js.
Remember: Take things 1 step at a time and never give up. You are going to run into issues, but EVERYTHING is fixable and you will get past it. It will not happen in 1 day, but when you pour your passion into something you can't fail.
Thanks for reading and good luck learning how to start a blog in 2020!