Soup season is almost here, and I'm really excited about it! Enjoy a thick, creamy chowder loaded with all kinds of tasty ingredients! And believe it or not, this Keto Clam Chowder recipe is on your table in under 45 minutes.
From the saltiness of the clams and bacon, to the earthiness of the cauliflower, keto clam chowder is the perfect comfort food. Serve a bowlful as a meal by itself. It's chock full of flavor and you won't need anything on the side!
This chowder is another one pot meal, which means prep, cooking, and cleanup is easy. Add chopped bacon to a dutch oven to cook. While it cooks, chop up some celery and shallots. Remove the bacon and set aside.
Making Keto Clam Chowder
Add in the freshly chopped vegetables, and then use clam juice to deglaze the pan. 'Deglaze' sounds like a fancy word, right? It's actually a delicious word! The clam juice helps scrape off the browned food residue from the bottom of the pan where a ton of amazing flavors are hiding.
Next, add the remaining ingredients and let them cook for slow and low until the cauliflower is tender.  A small bit of xanthan gum is added at the end to thicken everything up. Now it's time to eat a hearty bowl of keto clam chowder!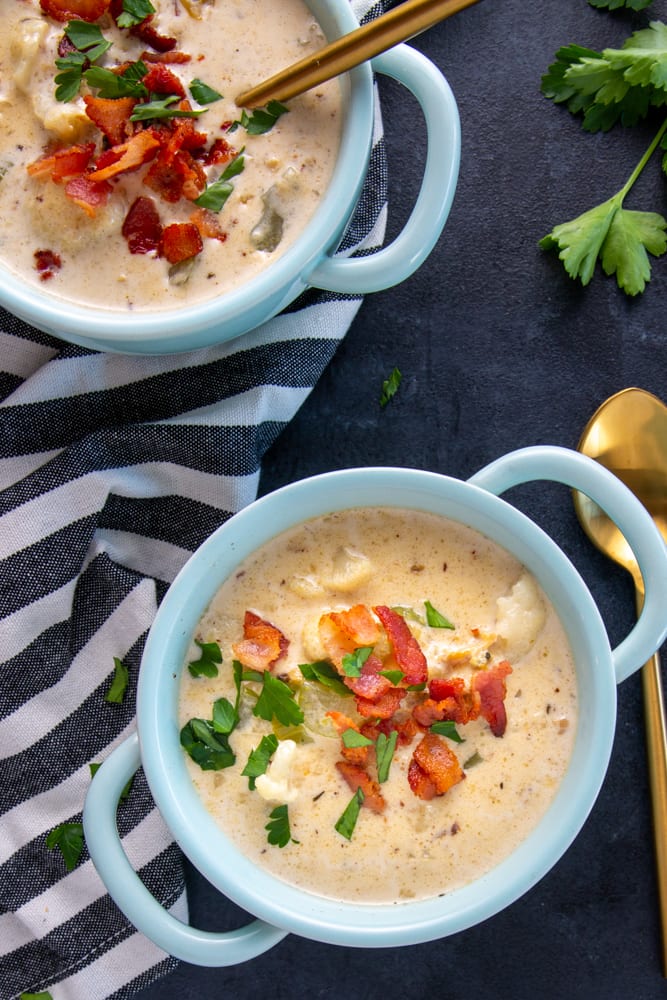 ---
---
Heat a large Dutch oven or other heavy bottomed pot over medium high heat. Add the chopped bacon and cook for 5-7 minutes until crisp. Remove the bacon with a slotted spoon and set aside.

Add the shallot and celery and saute for 2-3 minutes until shallot is translucent.

Pour in the clam juice and make sure to scrape off any bits stuck to the bottom of the pan.

Add cream, clams, bay leaf, thyme, and cauliflower florets.  Bring to a boil, then reduce heat to medium low, cover and cook for 5-10 minutes or until the cauliflower is tender.

Remove lid. Ladle out about ½ cup of the broth into a small bowl. Whisk in the xanthan gum until there are no lumps. Pour the xanthan gum mixture back into the large pot and stir through. Continue to cook for an additional 2-3 minutes until soup has thickened.

Serve topped with the reserved cooked bacon and chopped parsley if desired.
While soup is made by combining liquids – like water or stock – with other ingredients, like meat and vegetables, a chowder is a thick, soup usually made with cream. Both make for wonderful one pot meals and are delicious reheated. If you're a soup fan like I am, make sure to check out the other flavorful keto soup recipes I've shared. This creamy cauliflower soup is the ultimate comfort food, and so easy to make. And it takes only 10 minutes to make! Wow!