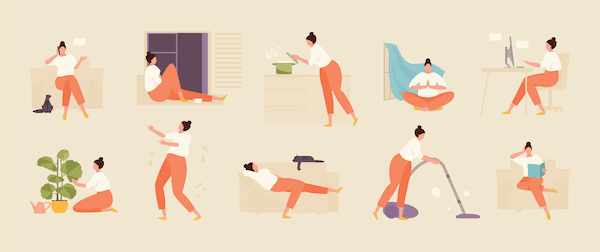 Hey there. I hope you're staying at home and healthy.
This is an extremely difficult time for people all over the world. I have immense gratitude for the many heroes in this Covid-19 fight; our healthcare workers, essential workers, and people helping in whatever capacity they can, from sewing masks, to delivering meals, to donating their time or money. It is absolutely heartwarming to see people helping and caring for one another, and when I find myself struggling with sadness or anxiety, this is a bright spot that I focus on.
Below I have compiled a list of various tips, tools, apps and resources to help with a variety of needs during this time. As someone who has struggled with anxiety and depression, I have found items on this list to be extremely helpful. Please know that you are not alone, we are all in this together. It's also important to know that your feelings are valid, and they can and will change from day to day. Some days I wake up and have a very productive day with an optimistic outlook, and other days it's a struggle, battling anxiety and worry for the world. It's more than okay to feel and acknowledge many different feelings during this time, and it's very beneficial to share how you're feeling with your family and friends. You are not alone, and we will get through this one day at a time.
Here are some tips and resources that I've been using while staying at home and I hope you find some of them helpful!
Establish a routine. This can be a very loose daily to do-list, or a more structured time-based approach for your day. There is no one size fits all here. For me this includes: 20-30 mins of exercise, taking a shower, getting dressed (Yes, yoga pants count – no jeans are happening in our house), homeschooling tasks, meal prep/planning, and time outside for fresh air.
Get at least 20-30 mins of exercise daily. Many people are struggling with their workout schedules being impacted, especially with gyms being closed. Thankfully there are lots of resources for home workouts; or simply going for a walk (while practicing social distancing) is a great idea. In addition to walks, I have been enjoying peloton workouts and working in the yard!
Get outside (while practicing social distancing). Each day (unless it's raining) we make a point to get outside to get some fresh air and sunshine (great for vitamin D!) Olivia and I sometimes just go and sit outside, or we play with sidewalk chalk, kick a soccer ball around, or run around with our dog. If you are going out to get essentials, it may be recommended for you to wear a mask. There are many tutorials online to make your own, or plenty available for purchase on Etsy. We wear a mask when going out, unless we are in our private backyard.
Connect with family & friends.  You can do this via phone calls, FaceTime or social apps. (See list of some of my favorite social apps below) The goal here is to stay connected with people you love. Social distancing is important, but we can connect and support each other during this time with a simple phone call, text, or video call!
Be mindful of eating habits/emotional eating.  I don't know about you guys, but I've been struggling with emotional eating. I have been working on making new habits during the last few years, but this situation brought on a whole new wave of emotions and anxiety. After much thought, I've realized that now more than ever, it is important to be mindful of my eating choices for my mental and physical health. Don't beat yourself up if you've been struggling, and know that if you try each day to just be 1% better, one small step at a time adds up!  We are in unprecedented times, and the last thing anyone needs is to add shame to that pile. Here are a few tips: Stay hydrated, limit caffeine if you're struggling with anxiety (I have switched to decaf coffee), and journal/track your meals and emotions. I also have a 30-day accountability chart, if you want to do a 30-day commitment to yourself.
Clean and organize your home. As I've shared with all of you in the past, I've truly noticed a connection with the condition of my house/space around me, and my mental health. Often times, when my room is a mess and I'm behind in laundry, I'm struggling or feeling overwhelmed. Since many people are now home, this is the perfect time to clear out clutter and organize your space! I'm a big fan of the KonMari method (although I do modify it a bit to be a bit less specific with the way to fold things, especially for Olivia's items), and have just started reading Outer Order Inner Calm.
Take time for self-care.  Self-care looks different for each of us. Quick things can include a 20-minute walk, a bath, a guided meditation, deep breathing exercises, etc. If you have more time, call or FaceTime with a friend or family member, or grab your favorite blanket, light a candle and watch a show on Netflix. The goal is to take some time to do things that make you feel good and recharged.
Daily gratitude. Even during difficult times, we all have things to be thankful for. Now more than ever, it's really helpful to reflect and focus on the good and positive things in your life. A daily gratitude practice really helps with this, and you can either write them down or say them out loud.
Learn something new or devote time to your hobbies. If you find yourself with some extra time, use this slow-down period as an opportunity to dive into something you've been putting off trying. Not only is this a good distraction, but a great investment in yourself!
Limit your exposure to the news and negativity. I find that watching the news or reading too many articles can be very anxiety producing. Try to find a good balance between staying informed, but not over saturating yourself with too much information. I find it helpful to stick with one trusted news source, and follow that exclusively for updates.
Some of my favorite resources while staying at home:

Mental Health/ Meditation Apps:
Calm is a meditation, sleep and relaxation app, available in both the App Store and Google Play store.
Meditation has been shown to help people stress less, focus more and sleep better. Headspace is meditation made simple, teaching you life-changing mindfulness skills in just a few minutes a day.
Exercise Apps:
I absolutely love the peloton app for workouts, which you can use with or without a peloton bike or treadmill. They have meditation, yoga, stretching, cardio, etc. Peloton also just added family workouts, which Olivia and I enjoy.
The Nike Training Club app helps you reach your fitness goals with expertly designed workouts from our world-class Nike Master Trainers. NTC provides free workouts for everything from bodyweight-only sessions,  yoga classes, targeted training programs, and full-equipment home workouts for all fitness levels.
Social Apps/Websites:
Houseparty is a free app that you can use on your phone or iPad where you can chat or video call friends/family members. It looks a bit like FaceTime, but you can also choose from a number of games to play. Games include Heads Up, Trivia, Quick Draw, and more — and they can be played with up to eight people at a time.
Zoom is a cloud-based video conferencing service you can use to virtually meet with others – either by video or audio-only or both, all while conducting live chats – and it lets you record those sessions to view later. For those who are having birthday's during this time of shelter in place, you can host a birthday party hangout with Zoom! (This is how we celebrated Mick's birthday this year and it was great for him to see his friends!)
Food/Grocery Delivery while staying at home:
Instacart  With Instacart, you can shop online and get groceries delivered from stores in your neighborhood in as fast as 1 hour.
Shipt is a membership-based grocery marketplace, enabling delivery of fresh foods and household essentials.
Amazon Prime Now  is a benefit of Amazon Prime and Whole Foods where members can place orders for fast same-day delivery in select zip codes.
DoorDash is a third party company that will pick up from almost anywhere around you, even groceries, and deliver it to your doorstep. DoorDash also had contact free drop off, which means the person who delivered your food will leave your items on your doorstep so that you don't have any contact.
UberEats  app connects you with a broad range of local restaurants and food, so you can order from the full menus of your local favorites to be delivered to your door.
Self Care Resources While Staying at Home
Uplifting Podcasts/Videos:
Great Mindset/Mental Health Books:
Resources for kids staying at home:
Messenger Kids is a version of the Facebook Messenger app specifically crafted to give kiddos under the age of 13 a secure, parent-controlled space in which to communicate with their family members and friends. We love to use this for Olivia to stay in touch with her friends and classmates during this time. There are many fun games they can play, as well as silly and fun filters.
Headspace has a lot of great and interactive resources for kids and adults.
Free program that engages kids in core subjects like early literacy, reading, writing, language, and math, while encouraging creativity and building social-emotional skills. Khan Academy Kids was developed in collaboration with learning experts at Stanford and aligned with the Head Start Early Learning Outcomes Framework and Common Core Standards.
YouTube has lots of fun and free exercise videos, and Olivia and I especially like these on rainy days!
A simple and fun practice that I have been doing with Olivia. This is a simple gratitude journal for kids, and a great thing for them (and you) to look back on when they are older. I find that it's very helpful to focus on gratitude during this time.
Creative Fun for kids
 Around the world, people of all ages have joined Mo Willems in his studio for weekday LUNCH DOODLES. The three-week run, all 15 episodes and their downloadable activities, are archived below.
Monthly bundle of 20+ fun lessons & activities for kids!
A comprehensivee list of free resources during stay at home and homeschooling.
How you can help?
During uncertain times like these, it can be easy to feel helpless. However, even if you are sheltering in place, like we are, there are ways you can help through organizations that provide important personal protective equipment to the brave healthcare workers on the front lines saving lives. There are also organizations to help feed people who don't have the resources for food.

World Central Kitchen  is a team of food first responders, mobilizing with the urgency of how to get meals to those who need them most. We're  activating hundreds of restaurants and kitchens to feed marginalized and vulnerable communities and our brave medical professionals on the front lines, in order to make a meaningful impact in the fight to keep everyone fed, and to support the distressed restaurant industry. We know that a nourishing meal in a time of crisis is so much more than a plate of food—it's hope, it's dignity, it's a sign that someone cares about you and that you are not alone.
Flexport.org Fund COVID-19 aid shipments: There is a significant shortage of COVID-19 related relief items. Currently, the Flexport.org Fund exclusively focuses on supporting the sourcing and transport of supplies related to the coronavirus pandemic. By helping to cover the logistics costs, you're enabling supplies worth thousands of dollars to reach people in need.
Donate Personal Protective Equipment (PPE) If you, your business, or someone you know has any extra N95 masks, surgical gowns, medical face shields, disinfectant wipes, hand sanitizer, infrared thermometers or nitrile exam gloves, consider donating it to your local hospitals. Call your local hospital and let them know what you have available to donate. Many hospitals have a system in place for people to drop off donations with social distancing or contact free drop offs.
Healthcare Workers:
THANK YOU! Words can't express how thankful I am for you!
Have you seen this video? Emergency Technique video: How to Increase Ventilator Capacity 2–4x in 10 Minutes
Need Help?
Crisis Text Hotline: Text HOME to 741741 to connect with a Crisis Counselor
List of Crisis Hotline Numbers: Click here
Unemployment Resources: COVID-19 Unemployment Benefits for Every State in the U.S.
Help for Small Business Owners: Covid-19 Small Business Relief Programs 
Remember, we are all in this together. Be kind to yourself, as we all take this one day at a time. Staying at home (if you can) will keep you and family and friends safe!
Lots of love,
Suzanne