Its barbecue and grilling season, and my favorite time of the year for outdoor cooking and dining. I'm partnering with Sweet Baby Ray's to bring you not one but TWO recipes using their new Ray's No Sugar Added Barbecue Sauce. It's hard to find a thick, flavorful low-carb barbecue sauce, but Sweet Baby Ray's has done it with their new Ray's No Sugar Added Barbecue Sauce which is delicious and flavorful! #ad
Recipes Made With Ray's No Sugar Added BBQ Sauce
There are two flavors of Ray's No Sugar Added Barbecue sauces and both are delicious: Original and Hickory. Both deliver sweet, smoky and tangy flavors, and you'll be surprised there's no added sugar! Each serving has only 1 gram net carb, making it the perfect sauce to add to your keto-friendly lifestyle.
Now let's make some barbecue! For both of these recipes, I used the Original flavor barbecue sauce. If your family prefers more of a hickory flavor, feel free to use that instead. I wanted to show you how yummy the sauce is on different types of meat, so I'm sharing recipes for BBQ Chicken Skewers and BBQ Bacon Wrapped Shrimp. Both recipes are super simple to make and you'll have dinner on the table in just a half an hour!
BBQ Chicken Skewers
These BBQ Chicken Skewers are a easy way to eat barbecue! Have the kids help get the veggies and chicken on the skewers, it's a fun task.
The chicken comes out so tender and flavorful because you marinade it in Ray's No Sugar Added BBQ Sauce for at least two hours, or overnight. The longer it sits, the more intense the flavor. The veggies are crisp and coated in spices and olive oil. Once the skewers are put together, they grill for about 15-18 minutes. This recipe is sure to be a crowd pleaser!
---
Equipment
6 bamboo or metal skewers
---
Place the cubed chicken in a large ziptop bag or container with an airtight lid. Add the BBQ sauce and toss together to coat all of the chicken evenly with the sauce. Refrigerate for at least two hours or overnight.

*If you are using bamboo skewers, submerge them in water and set aside for at least 30 minutes before grilling to prevent them from burning. If you are using metal skewers, you can skip this step.

When the chicken is finished marinating, prepare your veggies. Peel and slice your onion into 1-2 inch pieces (no more than 2 or 3 onion layers per piece) to make 18 even pieces. Place your onion into a medium mixing bowl and add the zucchini rounds, olive oil, garlic powder, salt and pepper. Toss together so veggies are coated in the spices and olive oil.

Prepare your skewers. Start with a piece of marinated chicken, rotate adding the chicken, onion, and zucchini to fill the skewer, and then ending with a piece of chicken. There will be 4 pieces of chicken, 3 pieces of onion and 3 pieces of zucchini per skewer.

Grill the skewers over medium/high heat for 15-18 minutes, until the internal temperature of the chicken reaches 165 degrees and the veggies are crisp-tender.
Notes
This recipe makes 6 servings. Each skewer is one serving, which is made up of 4 pieces of chicken, 3 pieces of onion and 3 pieces of zucchini per skewer.
BBQ Bacon Wrapped Shrimp
They say bacon makes everything better, and I agree! Sweet, delicate shrimp is wrapped in bacon and grilled. The jalapeno adds a bit of heat and freshness. What could be more delicious!
Don't let the jalapeno scare you away – the seeds are removed leaving very little heat to it. Make sure to have extra Ray's BBQ Sauce on hand for dipping!
---
---
In a bowl, combine shrimp, bbq sauce, garlic powder, and black pepper. Toss together and make sure that the shrimp are evenly coated. Cover the bowl and put in the fridge while you prepare your bacon.

Place bacon in a large skillet over medium/high heat and par-cook for about 4 minutes, or about half the time that the package instructions indicate. You may have to do this in batches if all of the bacon does not fit. Bacon should be pliable enough to later wrap around the shrimp. 

Remove bacon from the skillet with tongs and place on a paper towel lined plate to let it cool enough to be able to handle with your hands.

While the bacon is cooling, prepare your jalepeno. Remove membranes and seeds from your jalepeno and then cut into 12 strips, about 1/8 inch thick.

Once bacon is cool enough to handle, place the thin strip of jalapeno into the opening where the shrimp has been deveined. Tightly wrap each shrimp with the par-cooked bacon and secure with toothpicks.

Heat the grill over high heat, spray the grill grates with cooking spray. Grill bacon-wrapped shrimp for 7-9 minutes, flipping halfway, until shrimp are cooked through and opaque and bacon is crisped.

Take off the heat and serve with extra bbq sauce for dipping.
Notes
This recipe makes 6 servings. 1 serving is 2 prepared shrimp.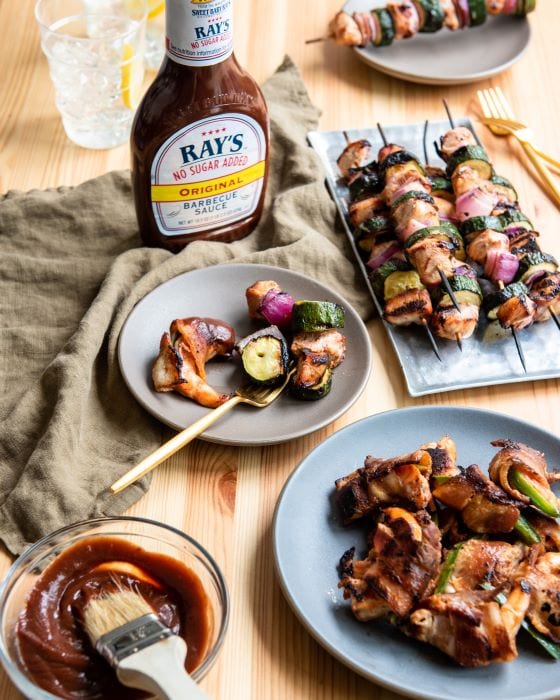 I can't wait to use Ray's No Sugar Barbecue Sauce to make these Slow Cooker BBQ Ribs  – they're delicious and take almost no effort to make.
For more recipes that call for this delicious BBQ sauce, make sure to head over and check out a Ray's library of meal ideas and inspiration!