Who's ready for long summer evenings and outdoor grilling? I can't wait! The recipe for these Grilled Chicken and Bacon Ranch Kabobs is from my best-selling keto guide and cookbook, Simply Keto, and it's one of my favorite summer meals. I love spending time outside enjoying the warm weather with my family. Grilling allows me to take advantage of time away from the kitchen while still being able to cook up a great meal.

You can make these kabobs quickly and with very little effort. Grilling the chicken leaves it crispy on the outside yet it stays juicy and tender inside. This along with the delicate mushrooms is such a great combination, and of course, bacon makes everything better!
You'll make a quick marinade, add the cubed chicken, and let it soak for a half hour. Then you'll start your kabobs. This is the fun part! You will thread the bacon onto the skewer, then add a piece of chicken and mushroom. Loop the bacon around, and repeat the process. Heat up the grill and add the skewers. Dinner's ready in no time.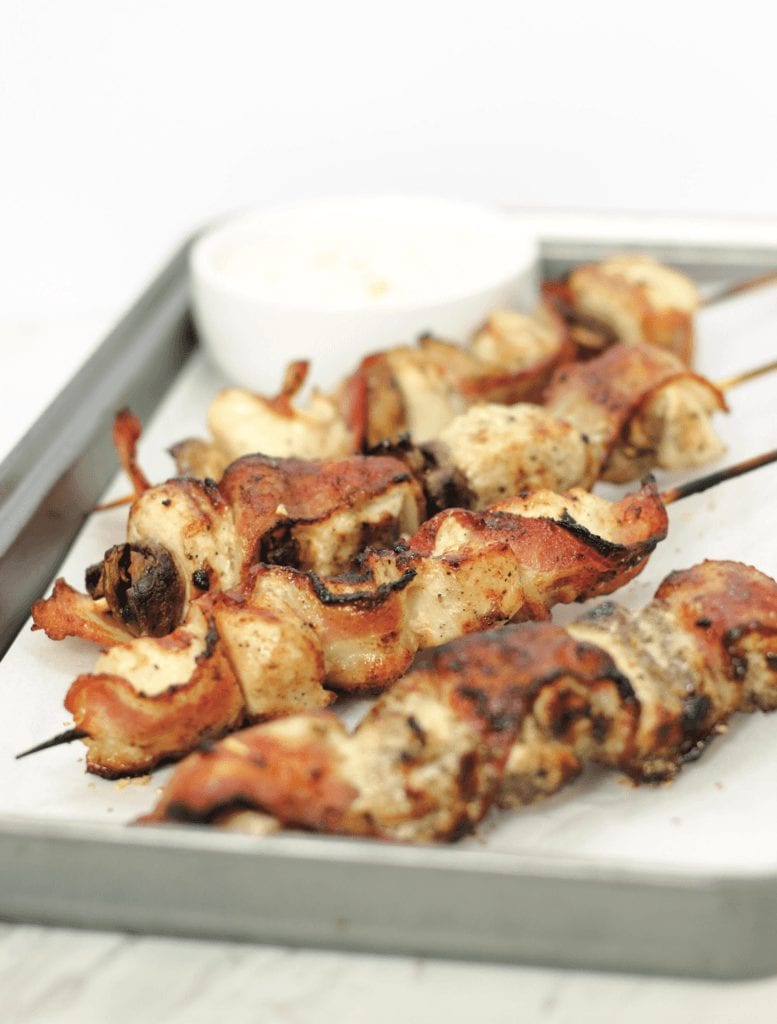 ---
---
Make the marinade: In a medium-sized bowl, mix together the ranch dressing, Italian seasoning, and garlic powder.

Add the chicken to the bowl with the marinade and stir to coat. Cover and refrigerate for 30 minutes.

Preheat a grill to medium-high heat.

Thread the end of a slice of bacon onto a skewer. Add one piece of chicken and one mushroom half (if using) to the skewer, then loop the bacon around and thread it onto the skewer again. Add another piece of chicken and another mushroom, then thread the bacon onto the skewer again, creating an "S" pattern covering each level of chicken and mushroom with bacon. Repeat until each skewer has 4 pieces of chicken and 4mushroom halves.

Grill the skewers for 15 to 20 minutes, until the internal temperature of the chicken reaches 165°F and the juices run clear, and the bacon is cooked.
The simple marinade I make to season the chicken in is creamy and flavorful. Make sure to make extra in a separate bowl so that you can serve it with some fresh veggies while you're grilling the Grilled Chicken and Bacon Ranch Kabobs. 
If you're looking for other quick and easy recipes with simple ingredients that are perfect for summer, Brussels Sprouts with Pancetta, Goat Cheese and Pecans is a perfect side to grilled meats or could also work as a light meal on it's own. My Low Carb Chicken and Veggie Stir Fry uses only one pan, and will have you in and out of the kitchen in just 25 minutes.
ENJOY!
Have a great summer!
Lots of love,
Suzanne