By now, you all know how much I love Whole Earth Sweetener. I discovered them when I was on the hunt for keto-friendly sugar replacements with clean ingredients. Have you tried any of them yet? SO delicious. Would love to hear what you think!
I've been on a matcha latte kick lately, and today I'm excited to share this simple and delicious recipe with you! This latte is super easy to make…you only need 4 ingredients and 5 minutes. It's rich in antioxidants and is perfectly sweetened with Whole Earth's Stevia and Monk Fruit blend, which contains zero sugar and zero calories. Planning to make it? Whole Earth is in several major grocery stores and on Amazon. 
My favorite features of Whole Earth's Stevia and Monk Fruit sweetener:
Plant-based natural sweetener (this is pretty unique as it's
a blend of stevia leaf extract & monk fruit extract) with natural ingredients
Zero sugar, zero calories
Keto friendly, zero net carbs
Delicious flavor with no unusual aftertaste or cooling effect
A little goes a long way, as this type is a concentrated sweetener
Comes in packets and a jar (I keep the packets in my purse for on the go)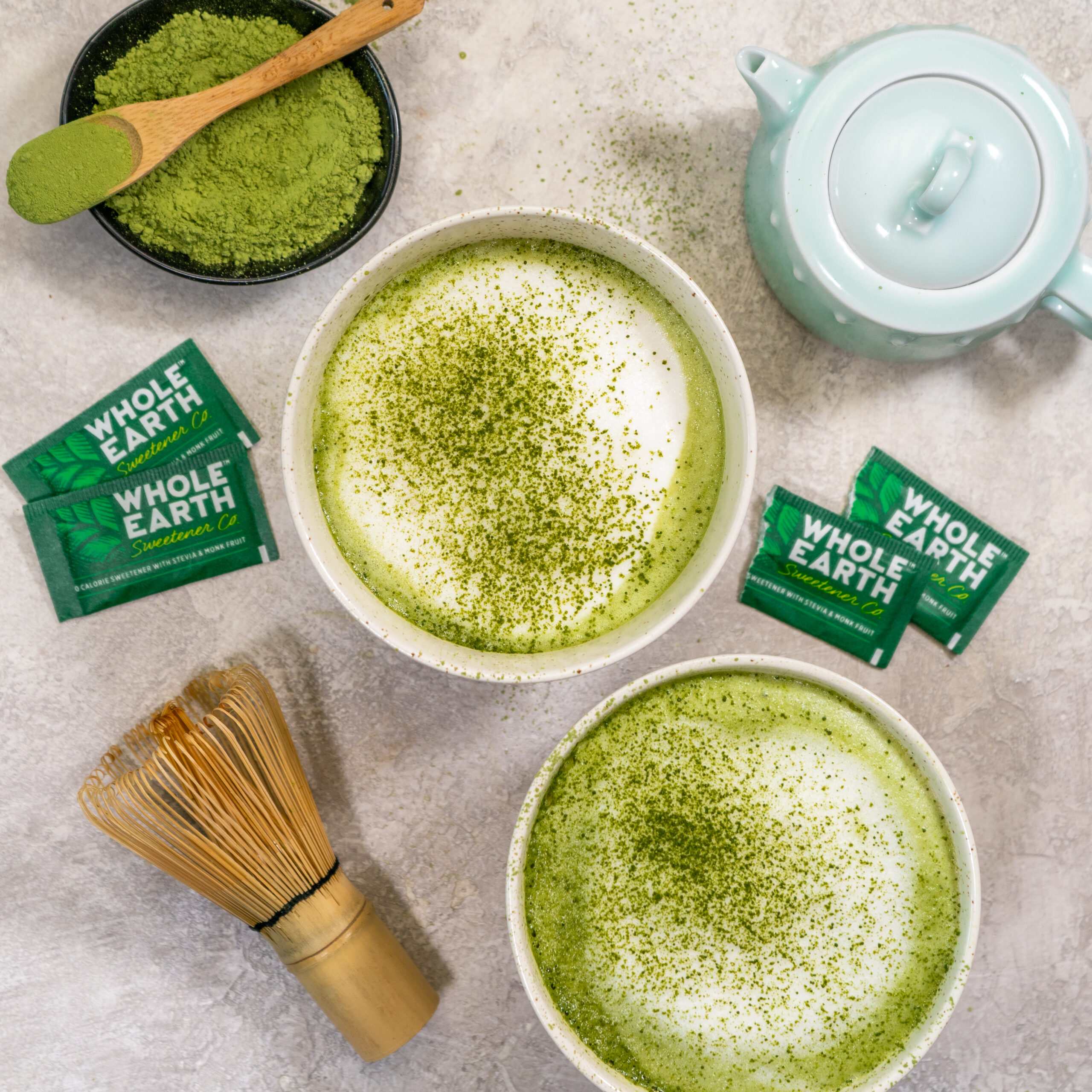 How to make a Keto Matcha Latte
First, you start off with 1 tsp of quality matcha powder added to a wide mouth mug.
Next, add 2 tbsp of hot water and use a whisk to combine the matcha until it's smooth and evenly mixed.
In a microwave-safe mug, heat one cup of unsweetened almond milk for about one to one and a half minutes in the microwave.
Carefully remove and add 1-2 packets of Whole Earth stevia and monk fruit blend into the hot almond milk. Use a milk frother or a whisk to blend the almond milk and sweetener, as well as to froth the almond milk.
Pour the almond milk in a circular motion over the matcha.
Enjoy as is, or sprinkle a little extra matcha powder on top for a little garnish!
---
---
Add matcha powder into wide mouth mug

Pour hot water over matcha powder and whisk to combine until smooth

In a large microwave safe mug, heat almond milk on high for one to one a half minutes

Add Whole Earth Stevia and Monk Fruit sweetener to hot almond milk and use a frother or whisk to combine and froth

Pour almond milk over the matcha/water mixture in a circular pour and finish with the center

Sprinkle extra matcha powder over top for a garnish, or enjoy as is!
Like this recipe? Check out my other delicious recipes using Whole Earth Sweetener:
Churro Muffins – Chocolate Peanut Butter Smoothie – Raspberry Swirl Keto Cheesecake – Chocolate Chip Mug Cake