One misconception that many people have about the keto lifestyle is that they won't be able to have anything sweet. Not true at all! My keto peanut butter bites are similar to peanut butter cups and will satisfy any sweet tooth. 
Creamy peanut butter, decadent chocolate, and just four other ingredients are all you'll need to create keto peanut butter bites. The recipe makes enough for 5 servings, so if you meal prep, you'll have a sweet treat for the entire work week! You can even double the recipe and store the extras in a zip-top plastic bag in the freezer for up to 6 months (they won't last that long though!)
I'm all about quick and easy recipes that use simple ingredients, and this one fits the bill. From start to finish, this recipe takes about 45 minutes to complete, but a half hour of that time is waiting for the peanut butter bites to firm up after you put them in the freezer. 
After mixing the peanut butter, almond flour, sweetener, and vanilla extract together, you'll simply roll the mixture into balls (this is a fun way to get your kids helping in the kitchen!) Pop them into the freezer for 30 minutes, and they'll be ready to roll into the melted chocolate. They'll go back in the freezer for another 10 minutes or so, until the chocolate is solid. Then you can enjoy!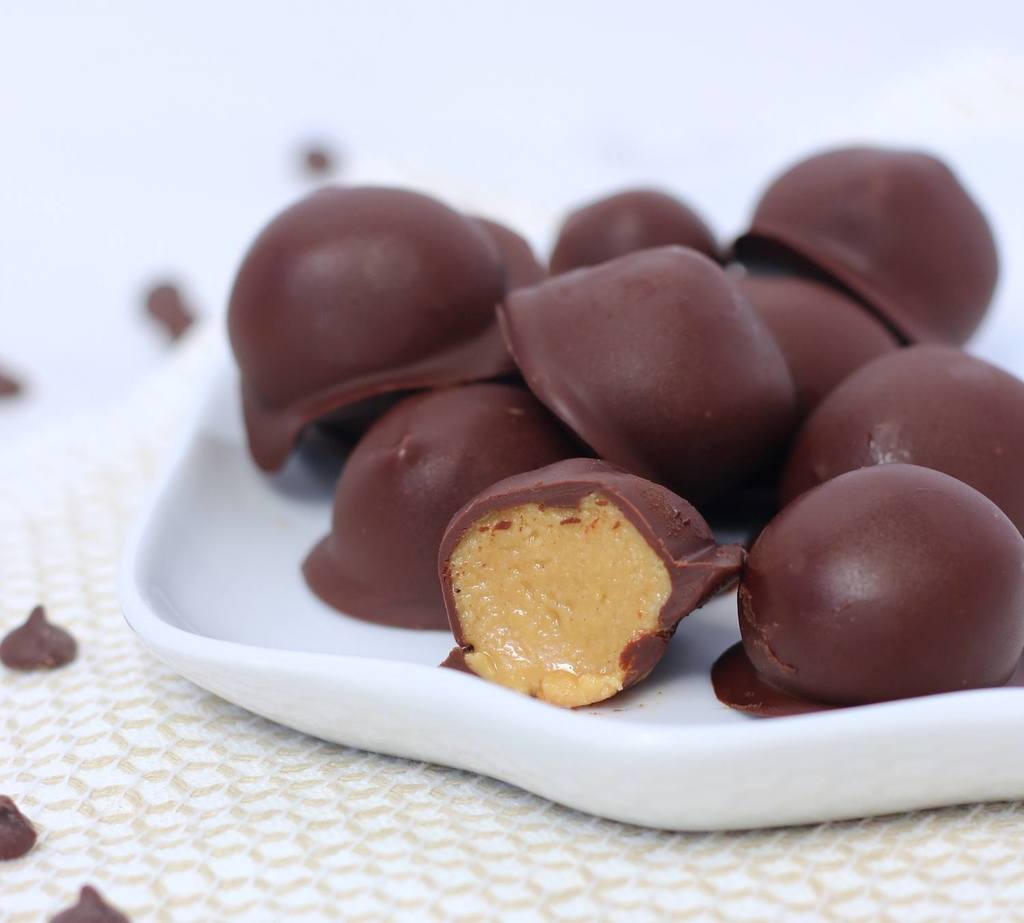 Pop Pop's Peanut Butter Bites
PREP TIME: 5 MINUTES, PLUS 40 MINUTES TO CHILL • COOK TIME: 1 MINUTE YIELD: 10 BITES
(2 PER SERVING)
Print
Pin
Rate
Instructions
Line a plate or small rimmed baking sheet with parchment pape

In a small bowl, mix the peanut butter, sweetener, almond flour and vanilla until smooth.

Form the peanut butter mixture into 10 small balls and place them on the parchment-lined plate. Place the plate in the freezer for 30 minutes.

After 30 minutes, place the chocolate chips in a small microwave-safe bowl and microwave until fully melted, about 45 seconds.

Add the MCT oil to the melted chocolate and mix well.

Remove the peanut butter balls from the freezer. Dip the balls one at a time into the melted chocolate. Use a spoon to gently roll the balls in the chocolate until they're fully covered. Place the chocolate-coated balls on the parchment paper–lined plate.

Place the chocolate-coated balls in the freezer for 10 to 15 minutes, until the chocolate is solid. Store extras in a zip-top plastic bag in the freezer for up to 6 months.
Notes
Net carbs per serving- 2.6g
Nutrition
Serving:
2
per serving
|
Calories:
122
kcal
|
Total Carbs:
7
g
|
Protein:
4.2
g
|
Fat:
10.8
g
I have several other recipes for treats and desserts. Which one is your favorite?