Who is really for all things fall? Me too! These pumpkin spice donuts are moist and fluffy with that cinnamon spice flavor we all know and love. These baked keto pumpkin spice donuts (not fried) are the perfect go-to for breakfast or a quick treat or dessert. Make sure to pair these with my keto pumpkin spice latte recipe if you want the full PSL experience.
I'm a big fan of this recipe as a breakfast item, because while I love eggs, sometimes I just want a delicious baked good for breakfast with a warm cup of coffee. I love the fall flavors paired with a perfect hint of sweetness.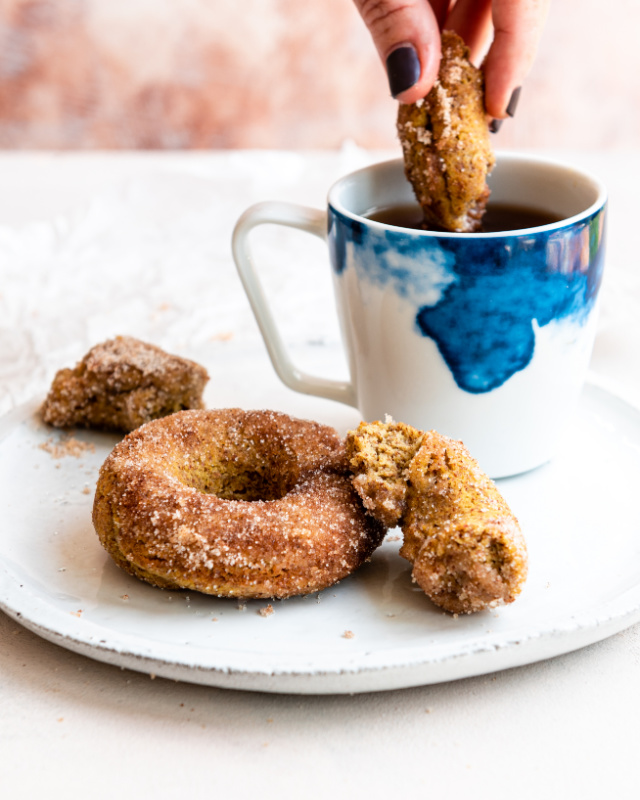 How to make Pumpkin Spiced Donuts
These donuts will take about 35 mins to prepare and can be stored for about a week. For this recipe, you will need a greased donut pan and a large mixing bowl. Preheat your oven to 350 degrees Fahrenheit and start mixing your wet ingredients in the mixing bowl.
Once the ingredients are mixed together smoothly, transfer your ingredients to a quart-sized plastic zip-top bag. Cut one of the corners from the bag and squeeze the contents evenly into the donut molds. Bake the donuts in the oven for 14-16 minutes and then remove and let cool on a baking rack or equivalent.
Now, you can prepare your cinnamon "sugar" coating. I use Whole Earth plant-based sweetener for this recipe. In a small bowl, melt butter and set aside. Use a separate bowl and mix erythritol, cinnamon, pumpkin spice together and get ready for the fun of dipping the donuts.
Using the butter that you prepared earlier, dip each side of the warm donut in the butter.  Once the donut is covered evenly with butter, dip each side in the pumpkin spice mixture. Coat each side evenly and place back on the cooling rack to allow the donut to cool.
Ingredients you'll need to make this recipe
Pumkin Puree
Eggs
Almond Milk (unsweetened)
Blanched Almond Flour
Coconut Flour
Pumpkin Pie Spice
Erythritol or sweetener of choice
Baking Powder
Unsalted Butter
Cinnamon
Cooking Spray
Kitchen items needed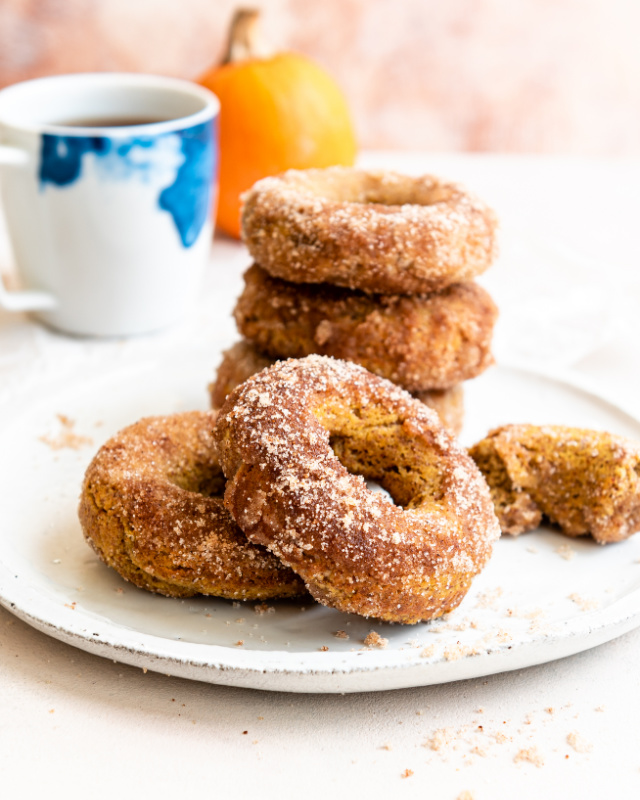 If you're looking for recipes to pair with these pumpkin spice donuts, check out my keto coffee recipe!
---
---
Preheat the oven to 350 and grease a 6-count donut pan with cooking spray.

Add pumpkin puree, eggs, and almond milk to a mixing bowl and whisk together until smooth. Mix in almond flour, coconut flour, pumpkin pie spice, Erythritol, and baking powder until everything is combined.

Transfer your donut batter into a quart sized zip top bag or pastry bag and cut a large opening in one of the corners. Squeeze the batter evenly into the prepared donut molds.

Bake the donuts for 14-16 minutes. Remove from the oven and let cool while you prepare the cinnamon sugar coating.

In a small mixing bowl, melt the butter and set aside.

In a separate bowl, mix together Erythritol, cinnamon, and pumpkin pie spice.

While the donuts are still warm, carefully remove them from the molds. Dip both sides of the donut in butter and then coat in the cinnamon/erythritol mixture and set on a wire rack to cool.