Creamy cheesecake topped with sticky sweet caramel and pecans – talk about a decadent recipe! This keto cheesecake with caramel pecan topping is a mouthful to say, and you'll savor every bite. This will serve 16 people, making it perfect for the holidays and large gatherings with family and friends.
While it might sound like a recipe with a lot of steps that will be difficult to make, it's actually quite simple. First you mix together all of the ingredients for your crust and press it into a spring form pan. While the crust bakes, you'll use an electric mixer to thoroughly mix all of the ingredients needed for the cheesecake filling. Add the filling to the top of the slightly baked crust, and bake for 65 minutes. You'll know that it's done when the edges are set. The middle of the cheesecake will probably be jiggly, and that's okay. It will set as it cools. After it bakes, allow cake to cool to room temperature. If you aren't eating the cake right away, store it in the fridge until ready to serve.
If you're ready to serve it, you'll need to prepare the topping. This step has to be done right before serving, so the caramel doesn't harden. You combine all of the ingredients (except the pecans) in a small saucepan. Once it cooks for a minute or two, stir in the pecans. Then drizzle the golden caramel over the top of the keto cheesecake. Now enjoy!
If you have leftovers, you can store in the fridge for up to 7 days.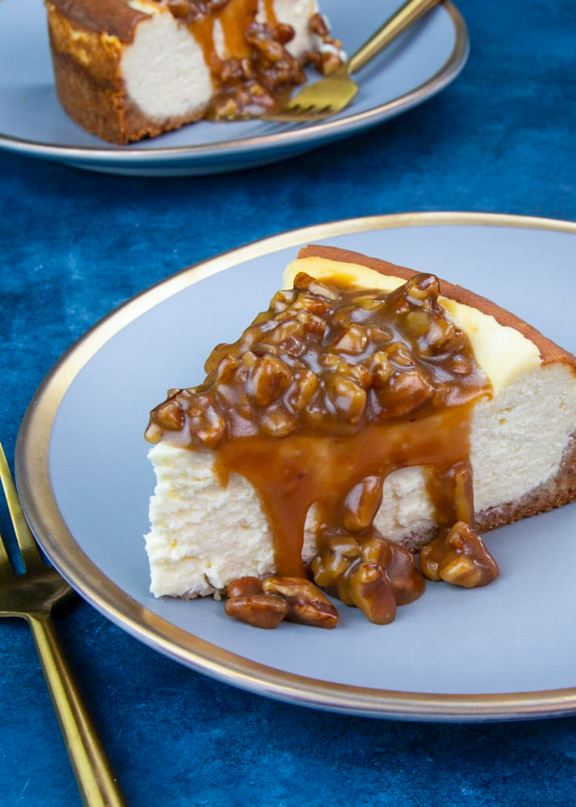 ---
---
Crust
Preheat oven to 350 degrees.

Mix all of the crust ingredients together with a fork until well combined. Evenly push crust mixture into a 10" greased spring form pan so that it comes about 1 inch up the sides

Bake crust for 12-14 minutes, until golden brown.
Filling
While crust is baking, prepare cream cheese filling. Using an electric mixer, beat cream cheese until light and fluffy, for about 1-2 minutes. Slowly add in the confectioners-style Swerve until smooth. Add 1 egg at a time until incorporated. Add in sour cream and vanilla and mix until combined.

Bake for 65 minutes. The edges should be set but the middle will still look jiggly (it will set as it cools).

Let cool to room temperature and then store in the fridge until ready to serve.
Carmel Pecan Topping
While cooling, prepare the pecan topping. Combine butter and brown Swerve in a small saucepan over medium-high heat until bubbling. Slowly whisk in heavy whipping cream, maple extract, and salt and let bubble for 1-2 more minutes. It may seem thin but it will thicken as it cools.  Turn off the heat and fold in chopped or halved pecans.

Using a slotted spoon, scoop the pecans evenly over the top of the cheesecake. With the caramel left in the pan, drizzle over the top of the pecans and cheesecake. This is best served immediately after topping it as the caramel will begin to harden as it cools. (Leftovers still taste delicious, and can be stored in the fridge for up to 7 days.)
Notes
Store Cheesecake in the refrigerator and enjoy within 7 days. 
There are a lot more keto desserts for you to try. Let me know which ones are your favorites!