Happy Fall (ahhh…my favorite season is here!)
I'm excited to share this delicious pumpkin scone recipe made with my favorite keto-friendly sweetener, Whole Earth! These scones are quick and easy to make, and thanks to Whole Earth, they are sweet and delicious with no added sugar. I love to pair these scones with a hot cup of coffee, and they are perfect to make in advance for a busy week ahead.
If you plan to make the scones in advance, be sure to add the cream cheese frosting just before serving. You can store the icing in a zip-top bag in your fridge, so it's ready when you are!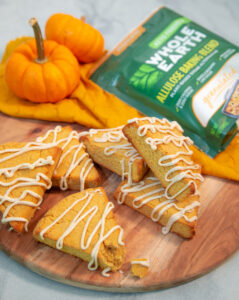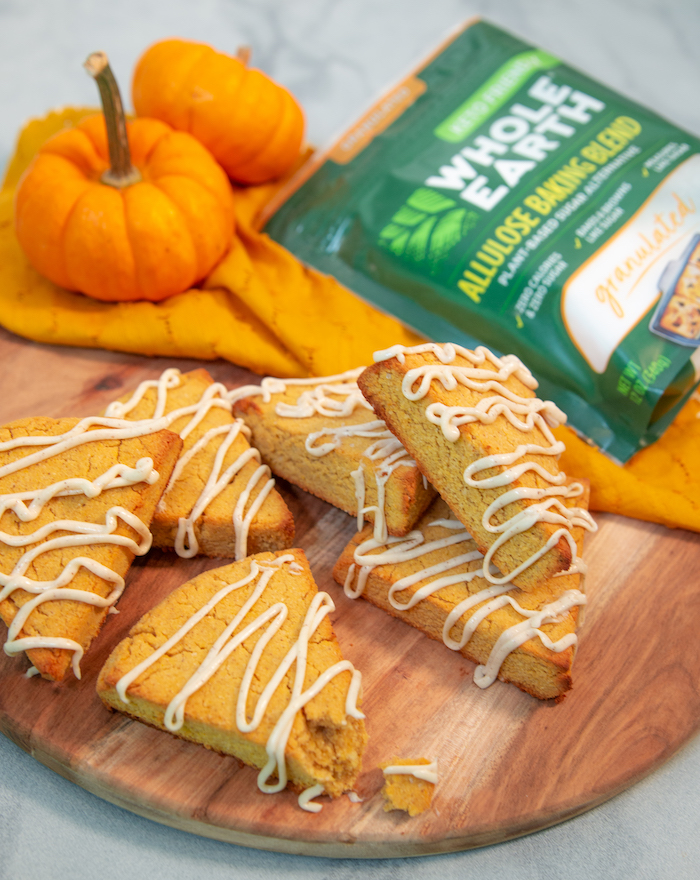 In this recipe, I used two of my favorites from Whole Earth, their Allulose Baking Blend (granular) and their Erythritol Blend (powdered). The Allulose Baking Blend measures cup for cup like sugar yet has zero net carbs and a low glycemic index (meaning it won't spike your blood sugar!) This blend tastes delicious and truly allows you to make and bake so many delicious treats while staying keto! I love that Whole Earth Sweeteners allow people to recreate their favorite foods while staying on track with their health and wellness goals.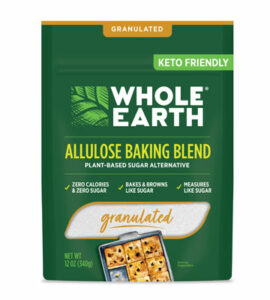 Allulose Baking Blend Ingredients:
Allulose, Erythritol, Xanthan Gum, Stevia Leaf Extract, Monk Fruit Extract.
• Zero calories & sugar
• Bakes & browns like sugar
• Measures like sugar
• Sugar-like texture
• Keto friendly
• Zero net carbs
• Low glycemic index
If you need to pick up some Whole Earth, you can use this store locator to find all of their products! They are also available on Walmart.com and Amazon.
Check out this video to see how easy this recipe is to make!
Things you'll need to make this recipe:
Blanched Almond Flour
Coconut Flour
Whole Earth Allulose Baking Blend
Baking Powder
Pumpkin Pie Spice Blend
Kosher Salt
Pumpkin Puree
Cream Cheese
Egg
Unsalted Butter
Parchment Paper
Baking Sheet
Zip Top Bag
---
---
Preheat your oven to 325 degrees F.

Add all dry ingredients into a bowl and whisk together to blend

Add wet ingredients to the dry ingredients and mix well until a dough is formed

On a parchment paper-lined baking sheet, shape the dough into an 8" round diameter and slice it into 6 equal pieces. A 6" round will give you a cake-like texture and an 8" round will give you a flakier texture.

Bake at 325 for 20-25 mins

Prepare cream cheese frosting by mixing all frosting ingredients into a small bowl and mixing well.

Add the cream cheese frosting into a zip-top bag and cut a small section of the corner to prepare to use as a piping bag.

Remove scones from the oven when they are finished baking. Allow scones to cool on a baking rack for 10 mins, they will continue to firm as they cool. Pipe the frosting over the scones and enjoy! If you are going to save some scones for later, hold off on topping them with the cream cheese frosting until right before eating. Enjoy!
If you love this recipe, check out other recipes using Whole Earth, like this Macha Latte or these amazing Churro Muffins!