Who doesn't love a warm churro? Today I'm sharing this recipe for Churro Muffins and I know you're going to love them! Churro muffins have the same texture and flavor of the churros you can get at your favorite amusement park. They are soft on the inside, and the Whole Earth Sweetener and a sprinkle of cinnamon creates a baked on crunchy "crust" on top. #ad
Why Make Churro Muffins Using Whole Earth Sweetener?
I'm partnering with Whole Earth to bring these muffins to you because they really make living a sugar-free keto lifestyle a breeze. They have a wide variety of products and flavors to help make cooking keto-friendly recipes easy. Their products are a staple in my pantry! You can use their sugar free, natural, and non-gmo stevia based sweetener, erythritol, cup-for-cup in any recipe that calls for sugar. And erythritol is great for keto cooking and baking; it has virtually no glycemic index, zero net carbs and zero calories! This makes it simple to make your favorite recipes in a healthier way.
These churro muffins are a sweet treat that can be enjoyed as a grab-and-go breakfast or as a filling snack. I hope your family enjoys them as much as mine does!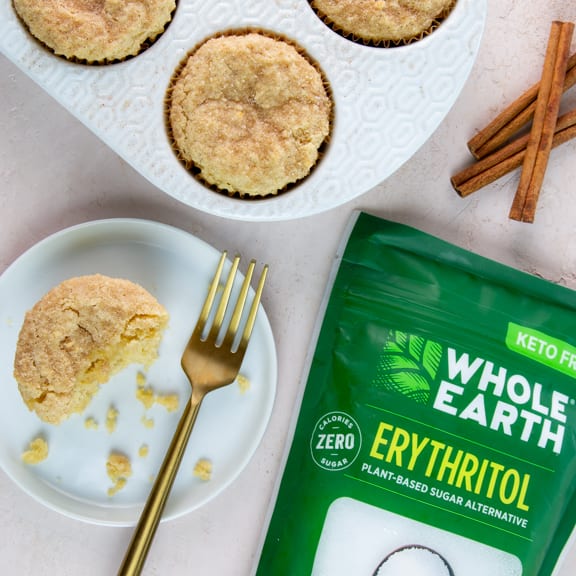 ---
---
Preheat the oven to 325°F. Line 6 muffin wells with liners, or use a silicone muffin pan with nonstick spray.

In a medium bowl, whisk together the dry ingredients, then work in the cold butter cubes with your hands until combined.

In a separate bowl, whisk together the wet ingredients, then add to the flour and butter mixture and mix until smooth. Spoon the batter evenly into the 6 wells, about 2 heaping tablespoons each.

Use your spoon to gently round the tops. Combine Erythritol and cinnamon in a small bowl and mix with a fork or spoon. Sprinkle the topping evenly over all 6 muffins, either with your fingers or a small strainer.

Bake until the top is lightly golden and a toothpick
or knife inserted in the center comes out clean, 20 to 22 minutes. Allow to rest for 10 to 15 minutes before serving.
I've shared many recipes before that call for Whole Earth sweeteners. My Raspberry Swirl Keto Cheesecake is always a crowd pleaser. It's also made with Whole Earth Erythritol. And check out this decadent and creamy Peanut Butter Smoothie that uses Whole Earth Stevia and Monk Fruit Blend.
Whole Earth sweeteners can be used in more than just sweet dishes. If you're looking for even more ways to use their sweeteners, they share a whole library of both sweet and savory recipes on their website, so make sure to head over and find a few new ones for your family to try!