BBQ ribs are one of my favorite meals! When grilling them isn't an option, this Slow Cooker BBQ Ribs recipe makes dinner easy with almost no effort at all.
Only 4 ingredients are necessary to make these fall-off-the-bone ribs. The only prep you'll need to do is to slice an onion. The onion slices go into the bottom of the slow cooker, then pour in the water. Add the ribs and slather them with a cup of the bbq sauce. Cook the ribs for the recommended amount of time. Remove them from the slow cooker and put them on a foil lined baking sheet. Slather on the rest of the bbq sauce, and put them under the broiler until the sauce bubbles. Delicious, saucy, tender slow cooker bbq ribs that will quickly become a family favorite!
When choosing a keto bbq sauce to use, make sure to choose a flavor that you love. Whether it's sweet, smoky, spicy and tangy or all of the above,  there are many varieties out there. Just make sure it's sugar free.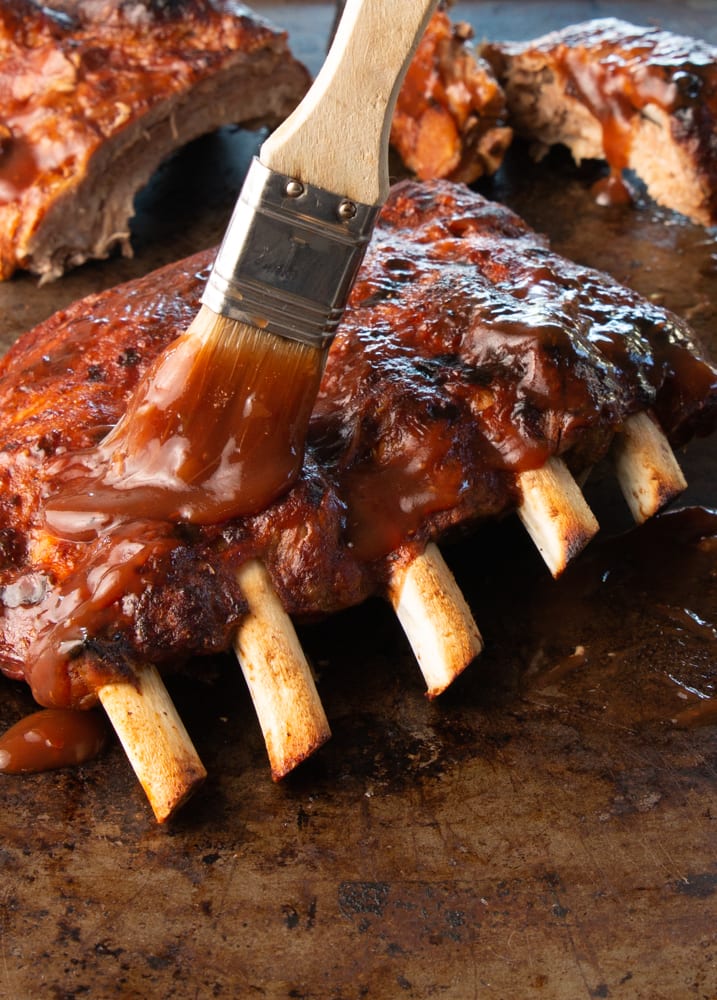 ---
---
Place sliced onion into the bottom of the slow cooker and pour in the water. Place baby back ribs on top of the onions, and slather them with one cup sugar-free BBQ sauce.

Cook ribs on high for 3-4 hours or low for 8

Take ribs out of the slow cooker and place onto a baking sheet lined with aluminum foil. Brush the ribs with the remaining cup of BBQ sauce and place under the broiler for about 3-5 minutes, until sauce is bubbling.
Notes
Macros may vary depending on what brand BBQ sauce you use. Macros do not include onion as you use it just as a cooking base and not actually as an ingredient to eat. 
Looking for ideas for delicious sides to serve with these bbq ribs? This Twice Baked Cauliflower Casserole recipe is one of my favorite keto recipes and would compliment the ribs. The casserole is creamy and cheesy and loaded with green onions and bacon. It will definitely remind you of twice baked mashed potatoes! If you're looking for something a bit lighter, try this fresh and crunchy Broccoli Salad or Bacon Wrapped Asparagus.