This is one of my favorite keto recipes, keto twice baked cauliflower casserole. I make it at least once a week and my husband and daughter love it. You can use it as a side dish, or as a meal on it's own. I also make this whenever I feel like a craving for mash potatoes and it really hits the spot!
The cauliflower is cooked 2 ways. First it's boiled to soften it, and after that it's baked with all kinds of yummy ingredients. As a result you get a creamy, flavorful casserole that your family will devour. Think of everything you'd put on a loaded mashed potato and it's in this casserole!
Start by frying 6 slices of bacon. You can use Bacon Bits or pre-cooked bacon if you want to take a shortcut. Once the bacon is done, chop into small pieces. Meanwhile as the bacon fries, boil a pot of water and add salt. Next, cut the stem and core from the cauliflower and disregard. After that, chop the remaining cauliflower into small pieces, and add to the boiling salted water ( See below for alternative Instant Pot instructions for cooking the cauliflower). Allow to cook for 15-20 minutes. Drain well.
Instant Pot Instructions: You can choose to steam your cauliflower in your instant pot instead of boiling, which is my favorite way to soften the cauliflower. To do this, remove the stem and core from the cauliflower, next break apart the cauliflower florets and place them into the instant pot along with one cup of water. Close the lid and set to seal. Set to steam on high for 15 mins, or on the new instant pot, you can use the steam preset and select broccoli. You can do the quick release for the pressure when its done. Next strain the cauliflower to remove any excess water and continue with the recipe.
In a large mixing bowl, add cream cheese, sour cream, green onions, parmesan cheese (or any shredded cheese of choice) and 4 pieces of chopped fully cooked bacon. If you want a creamier consistency, you can add the optional heavy whipping cream as well. Add the drained cauliflower and use a potato masher or mixing whisk to get to the desired consistency. Spread it into a casserole dish, top with cheddar cheese and remaining bacon. Bake 15-20 minutes, and this hearty keto twice baked cauliflower casserole is ready!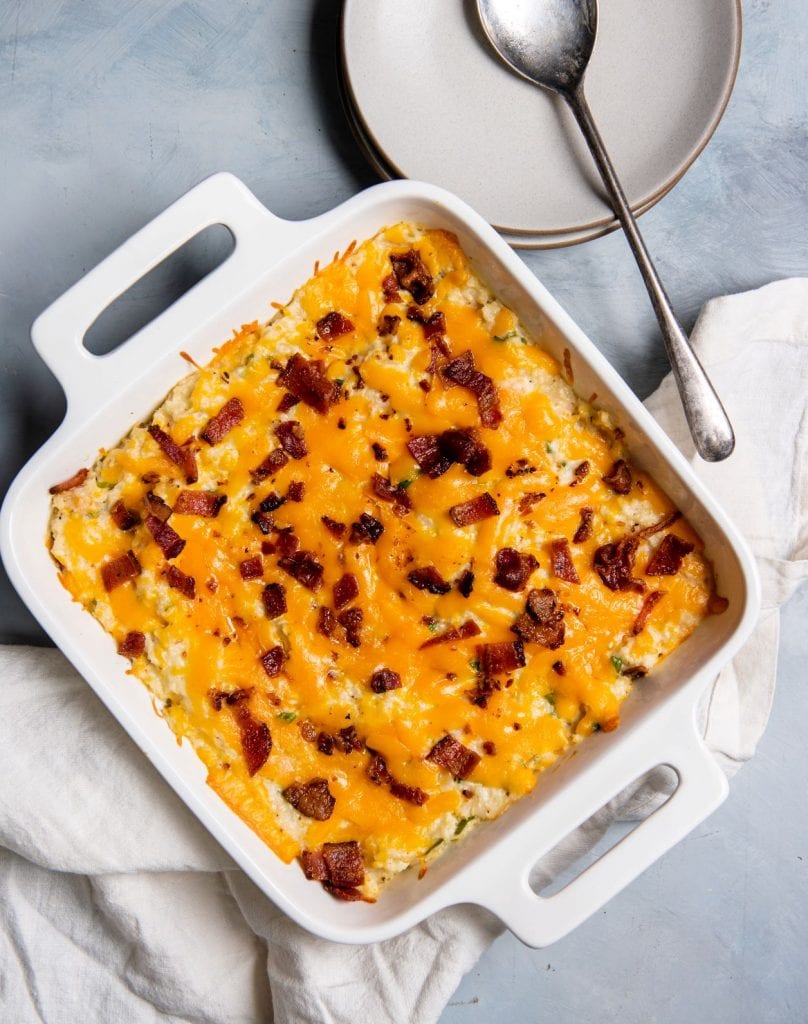 ---
---
Fry the bacon in a large skillet over medium heat. Transfer to a paper-towel lined plate. Allow to cool and then chop.

Core the cauliflower and chop the florets into small pieces.

In a large pot of boiling salted water, boil the cauliflower until soft (Or use your instant pot to steam the cauliflower, instructions in the post above). 15-18 minutes for a chunkier texture or 20-22 minutes for a super smooth texture.

Meanwhile, in a large mixing bowl, combine the sour cream, cream cheese, parmesan cheese, green onions, garlic powder, and two-thirds of the bacon.

Preheat oven to 350 degrees

Drain cauliflower well, then pour the cauliflower over the cream cheese mixture in the bowl. Mash with a potato masher or whisk until it is the consistency of your liking. Season to taste with salt and pepper.

Spread the cauliflower mixture evenly in a 3 qt. casserole dish. Top with the cheddar cheese and remaining bacon.

Bake for 15-20 minutes, until the cheese is melted. Garnish with chopped green onions.
Another family favorite is this Keto Cheeseburger Casserole. Yum!