These quick and easy keto sausage balls are absolutely delicious! Imagine the perfect blend of savory sausage with a freshly baked cheddar biscuit. Yum! They can be served as an appetizer, pre-made and reheated for breakfast, or served at a party, bbq, or potluck. With only 2 carbs per serving, these keto sausage balls recipe also make a perfect snack.
10 minutes of prep time and 20 minutes of cook time makes this a quick and easy recipe. Start by preheating the oven and lining a baking sheet with parchment paper or a silicon mat.
Next, in a large bowl mix all of the ingredients together. Don't be afraid to use your hands – I find this is the best way to fully mix and incorporate everything. This recipe calls for flaxseed meal. If you don't have it on hand, it's no  problem. Simply substitute it by adding one egg to the recipe instead.
Roll about 2 tablespoons of the mixture into 2 inch balls. You should have 30 balls when you're done. Bake for 16 minutes. To get the tops crispy and a nice brown color, place the baking sheet on the top oven rack and broil for 2-4 minutes. Watch closely so that they don't burn.
You can enjoy the keto sausage balls warm or at room temperature. Store them in the fridge and just pop them in the microwave for a minute or so to reheat.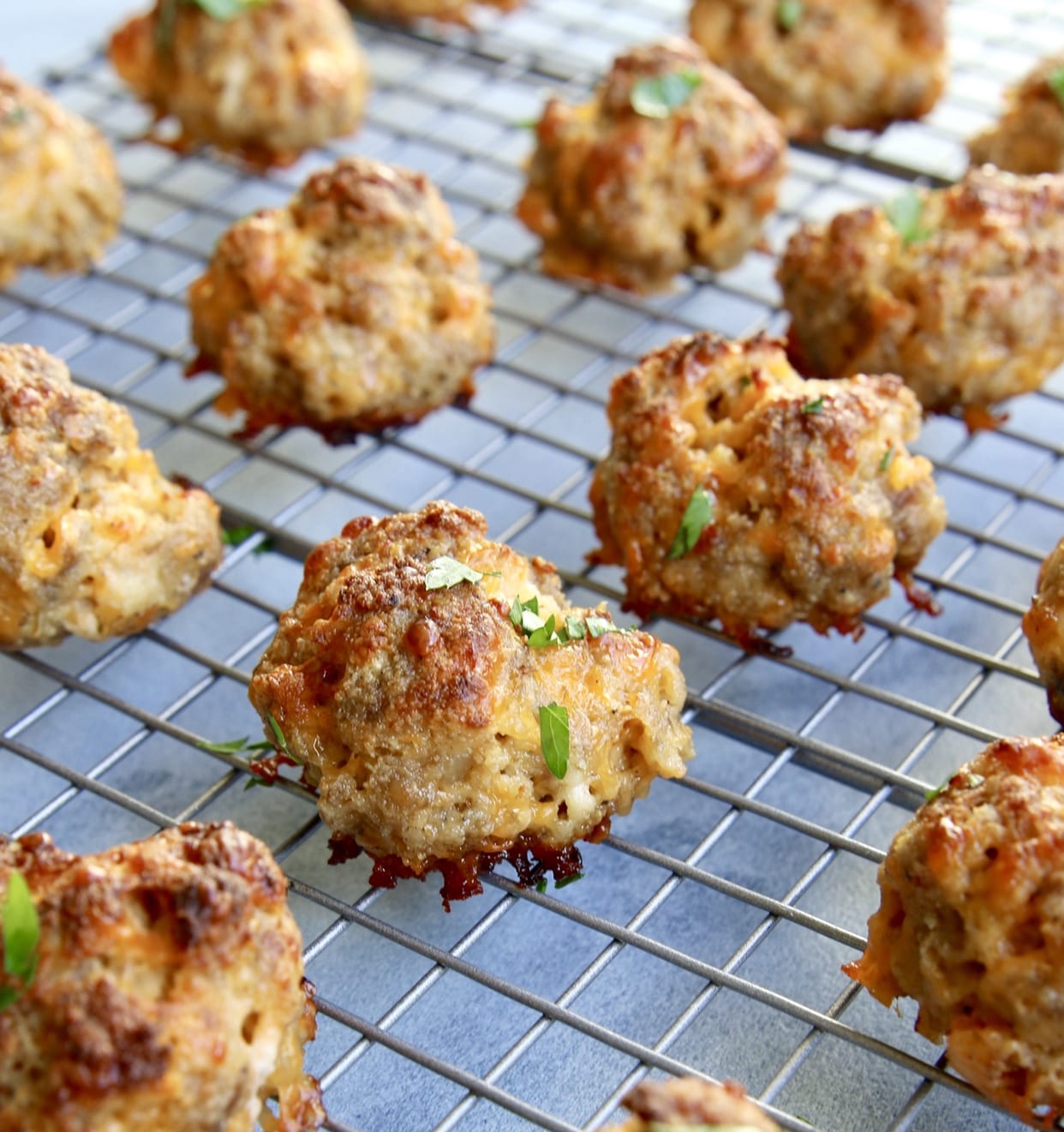 ---
---
Preheat oven to 400 degrees and line a sheet pan with parchment paper or silicone baking mat.

Mix all ingredients together into a large bowl until well incorporated. I find that using my hands is the best way to mix.

Roll approximately 2 tbsp of the mixture into equal 2 inch sized balls. This will make 30 sausage balls.

Bake for 16 minutes and then move to the top rack and broil on high for 2-4 minutes until the tops get browned.

Enjoy warm or at room temperature.
Notes
If you don't have flaxseed meal on hand, you can substitute it by adding one egg to the recipe.
If you're a fan of sausage, don't miss this recipe for Sausage Stuffed Mushrooms. I also have several other keto appetizers that are always a huge hit!