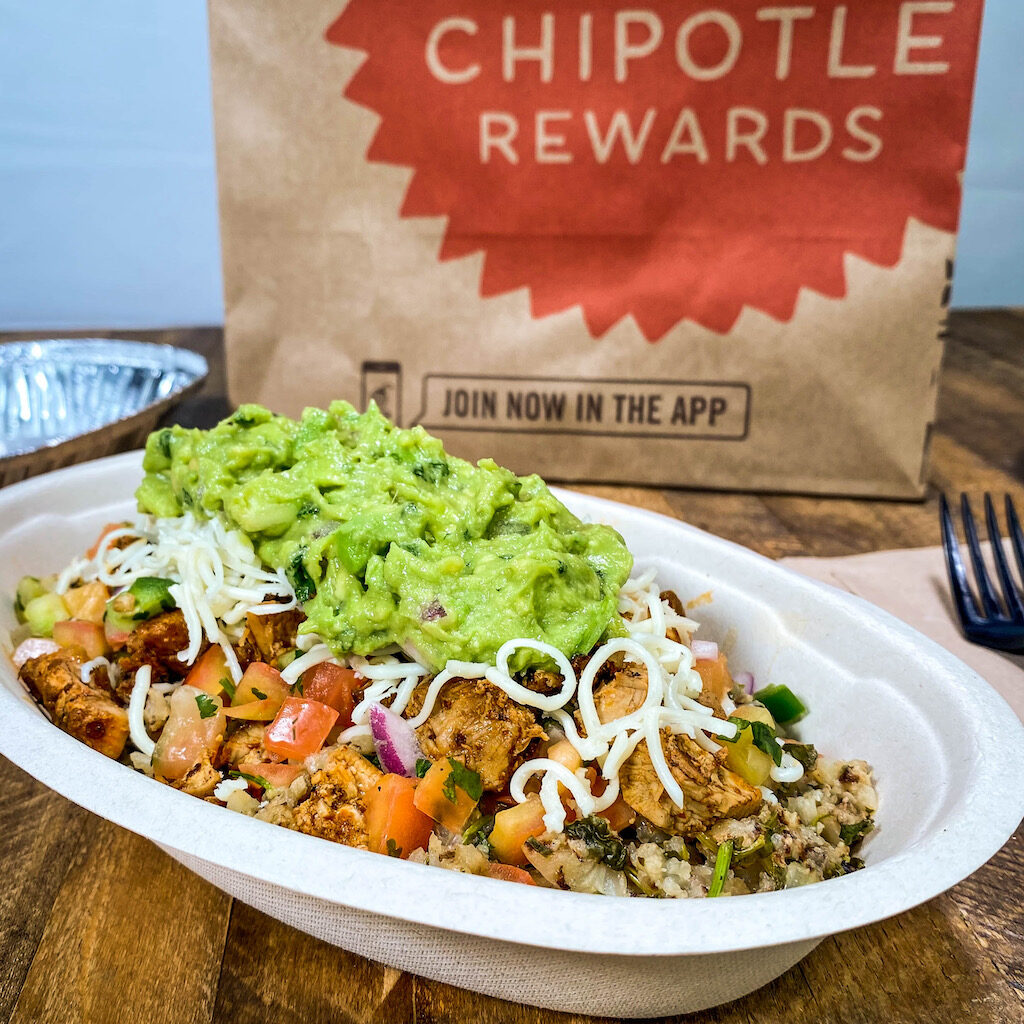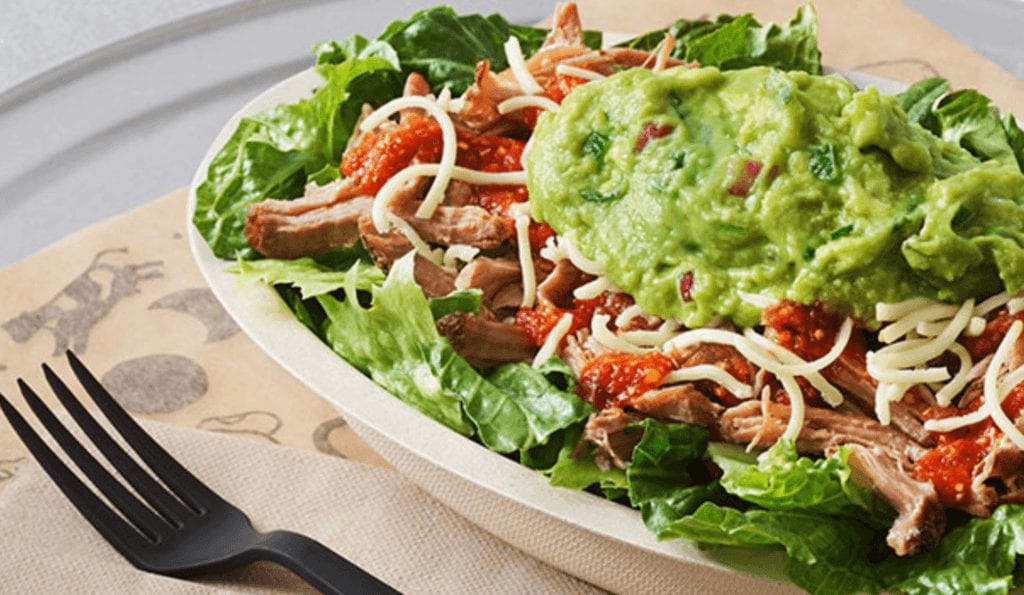 Chipotle has always been one of my favorite go to's for keto friendly options, and they've made it even more official with the new Keto Salad Bowl! It's especially great when you're short on time or simply don't feel like cooking.
If you order the Keto Salad Bowl as is, the ingredients are: Romaine lettuce, carnitas, hot salsa, cheese, and guacamole.
Macros for the entire bowl: 590 Calories / 42g fat/ 32g protein/ 7g net carbs 
I had the opportunity to try the new keto salad bowl from Chipotle, and it's delicious! I also love to build my own salad bowls, so I decided to put together a complete list of all of the low carb/ keto friendly options available, so you'll have it next time you're ordering Chipotle!
Side note: Chipotle has a very easy to use Nutrition Calculator, that you can use to easily calculate the macros of your customized meal.
Meet the Keto Salad Bowl From Chipotle
Lettuce:
Romaine – 2g carbs/ 1g net carbs / 10 calories /0g fat
Meat Options:
Chicken – 0g carbs/ 180 calories/ 7g fat
Steak – 1g carbs/ 150 calories/ 6g fat
Carnitas – 0g carbs/ 210 calories/ 12g fat
Barbacoa – 2g carbs/ 170 calories/ 7g fat
Chorizo – 2g carbs / 300 calories / 18g fat
Filling Options:
Fajita Toppings – 5g total carbs/4g net carbs/ 20 calories/ 0g fat
Topping Options:
Queso – 4g total carbs/ 3.5g net carbs/ 120 calories/ 8g fat
Fresh Tomato Salsa – 4g total carbs/ 3g net carbs/ 25 calories/ 0g fat
Tomatillo-Green Chili Salsa – 4g total carbs/ 4 g net carbs/ 15 calories/ 5g fat
Tomatillo-Red Chili Salsa – 4g total carbs/ 3g net carbs/ 30 calories/ 5g fat
Sour Cream – 2g total carbs/ 2g net carbs/ 110 calories/ 9g fat
Cheese – 1g total carbs/ 1g net carbs/ 110 calories/ 8g fat
Guacamole – 8g total carbs/ 2g net carbs/ 230 calories/ 3.5g fat
Romaine Lettuce – 1g total carbs/ 0g net carbs/ 1 calorie/ 0g fat
My go-to chipotle order:
Romaine lettuce, Carnitas (or chicken), Fajita Veggies, Fresh tomato salsa, cheese, sour cream and guacamole. (Just as an FYI, this is a pretty large portion, so I only eat half, and save the rest for later!)
Delivery and Online Orders:
On busy weeknights, I love the option of having food delivered, and to make things easier, you can now order via the chipotle app or online! #ad bit.ly/LBowl