Butcher Box Review
Today, I'm sharing my honest review of Butcher Box, a meat delivery subscription. Butcher Box sources high quality meat and seafood, and sends it right to your door. All items are 100% grass-fed, grass-finished beef; free-range organic chicken; heritage-breed pork, wild-caught seafood and more. The meat and seafood come in a cooler-style cardboard box with dry ice, and the meat/seafood arrives frozen. Butcher Box has five different box options, but I tend to order the custom box. The custom box gives you the ability to select what items you want from over 25 different options. Each custom box comes with 9-14 lbs of meat/seafood with an average costs $4.97 per meal.
Curious about what a Butcher Box looks like? Below is an unboxing video of my most recent box with my little helper, Olivia.
I often struggle to find good quality and humanely raised antibiotic free meat at my local supermarket, which is what made me check out Butcher Box in the first place. To be honest, I really don't love going to grocery store, and I often have my groceries delivered. While having groceries delivered is convenient, you leave it up to someone else to select your meats, which can be disappointing. So far, I've ordered four Butcher Boxes, and I've been extremely happy with the cuts and quality of everything I've reviewed.
Butcher Box Promotions
If you're interested in getting a Butcher Box, I'll continue to update this post to share the latest promotion for new members below:
Butcher Box current promo: New members will receive one pack of bacon for FREE in every order for the lifetime of their membership.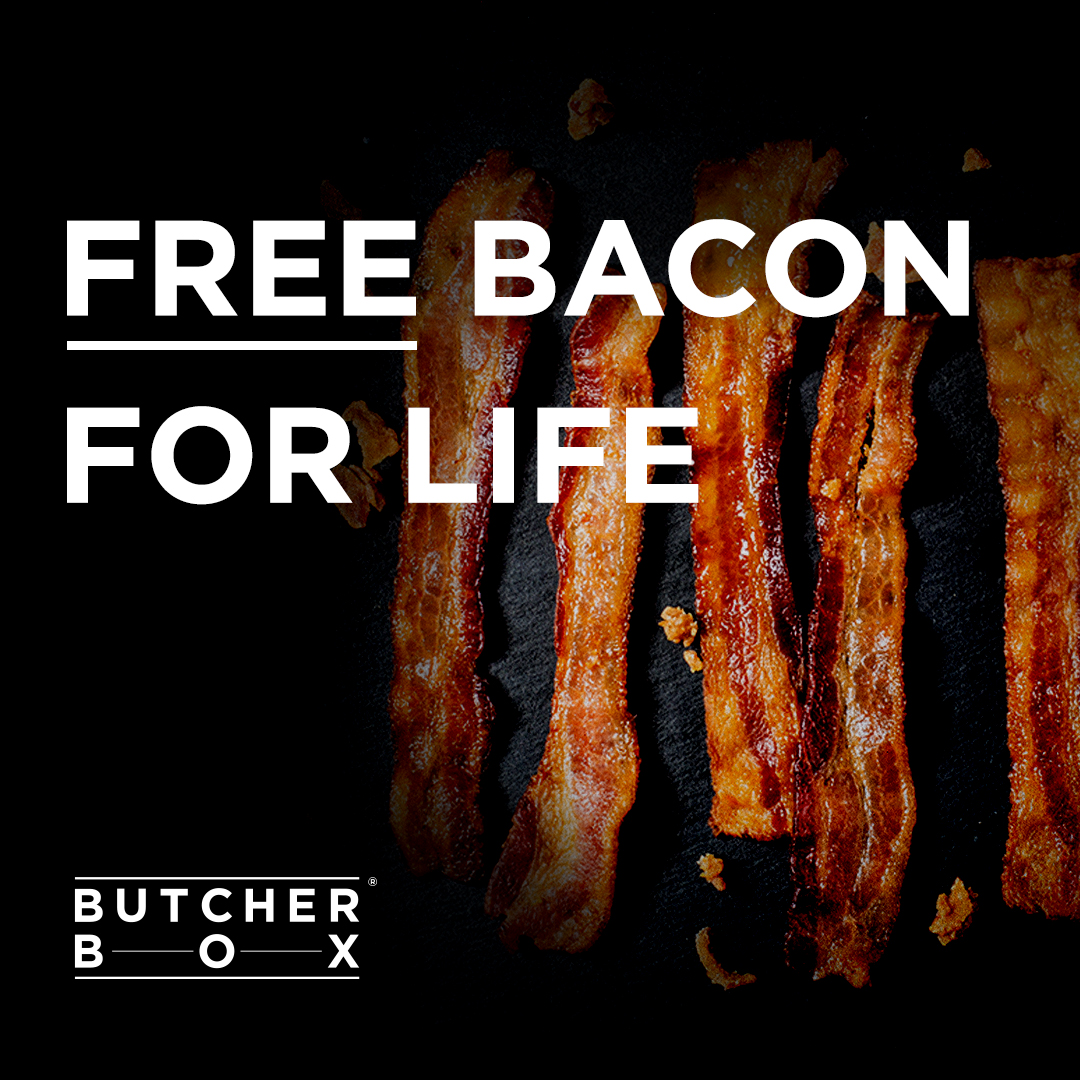 This post contains affiliate links. I will receive a small commission if you decide to subscribe to Butcher Box, which helps support our blog. Regardless, this review is my honest opinion, and I love to share things that I use and enjoy with all of you! 
Pros:
Meat is organic and sustainably raised.
Meat is grass-fed and antibiotic free.
Super convenient with the ability to order from the comfort of your home with Free Shipping
High quality and flavorful cuts of meat – We especially love their steaks and seafood!
The value is great if you value quality meats, the prices are often less than Whole Foods.
You can easily cancel or pause your ButcherBox at anytime (we did this when we moved from California without any issues).
Excellent customer service – they are easy to get a hold of and are quick to make things right if you have any issues.
Cons:
Even though the majority of the packaging is recyclable, there is some plastic waste and extra packaging used when having things delivered. I also have had a few packages where the meat package has a slice in it (which I generally didn't notice until thawing), but if you email Butcher Box they will make things right.
You need to plan in advance since it will take 3-5 days to arrive after order, and arrives everything arrives frozen. I generally plan our meals 2-3 days in advance to grab things out of the freezer in time to thaw.
I don't think Butcher Box is for everyone. If you're not concerned with organic chicken or grass-fed beef then this service may not be of interest to you, as the prices will be higher than conventional/non-organic meats.
My Overall Thoughts
Ultimately, I absolutely love the Butcher Box and highly recommend it. As a busy working mom, convenience is really helpful and important to me. Therefore, the ability to quickly order from home and have quality meats delivered is a big perk. I also really value meats and seafood that is humanely raised, sustainability sourced, hormone and antibiotic free. I especially focused on antibiotic and hormone free after I had Olivia. I find the cost is very comparable to Whole Foods, yet saves you a trip to the store! If you end up trying it out, let me know how you like it!
Some of my favorite recipes to make with my Butcher Box meats and seafood are Keto Chili, Tuscan Chicken and Grilled salmon with avocado salsa