Keto Krate sent me their January krate, and I loved so many of the items that I decided to share my review with all of you! For those of you who don't know, Keto Krate is a keto/low carb friendly subscription box that can delivered to your door each month. If you want more information about Keto Krate, you can click here . Also, we have included a chance to win a free month of Keto Krate in our giveaway (Open January 17-31) on Instagram, so be sure to enter!
January 2016 Keto Krate Review
Coco Polo Chocolate: A stevia sweetened milk chocolate with almonds, SO good, and only 5 net carbs per serving!
Cello Whisps: I found these once in Publix, and was excited to see then in this months box, since I haven't been able to find them in California yet. Light, airy and crunchy Parmesan cheese chips, with less than 1 net carb per serving. This brand is by far the best tasting cheese chips I've ever had.
Vermont Smoke and Cure: Chipotle Beef sticks,  1g  net carbs per serving, very flavorful and easy for on the go. I'll definitely be getting more of these! So yummy!
Emerald Nuts: Cocoa Roast Almonds 100 calorie packs, perfect for a sweet tooth or snack. I hadn't tried these before, but I absolutely loved them! 2.5g net carbs per bag. I'm a big fan of small bags like theses that are portioned out to avoid overeating. These are definitely on my shopping list already!
Zenify Drinks:  100% Natural Stress Relief Drink. Infused with Natural Stress-Reducing Antioxidants. My husband gave this a try, and he loved it! 1 net carb per serving. I'm more of a LaCroix lime girl myself, but it's good to have options!
Good Dee's Cookie Mix: A low carb cookie mix. These got a mixed reviews in our house, my husband liked them a lot, and I wasn't a huge fan of the consistency or sunflower seed flavor. I'm sure there is something for everyone, so this one you'll have to decide for yourself! : ) 3g net carbs per serving.
Big John's Beef Jerky: We loved this beef jerky, flavorful and nice macros! 1g net carbs per serving! A lot of beef jerky is loaded with sugar, so I'm always happy to find brands that are low carb.
Gorilly Goods: Pumpkin seeds and kale, which are organic, raw, and really good for a snack. I actually had to battle my two year old for these, so that's a win!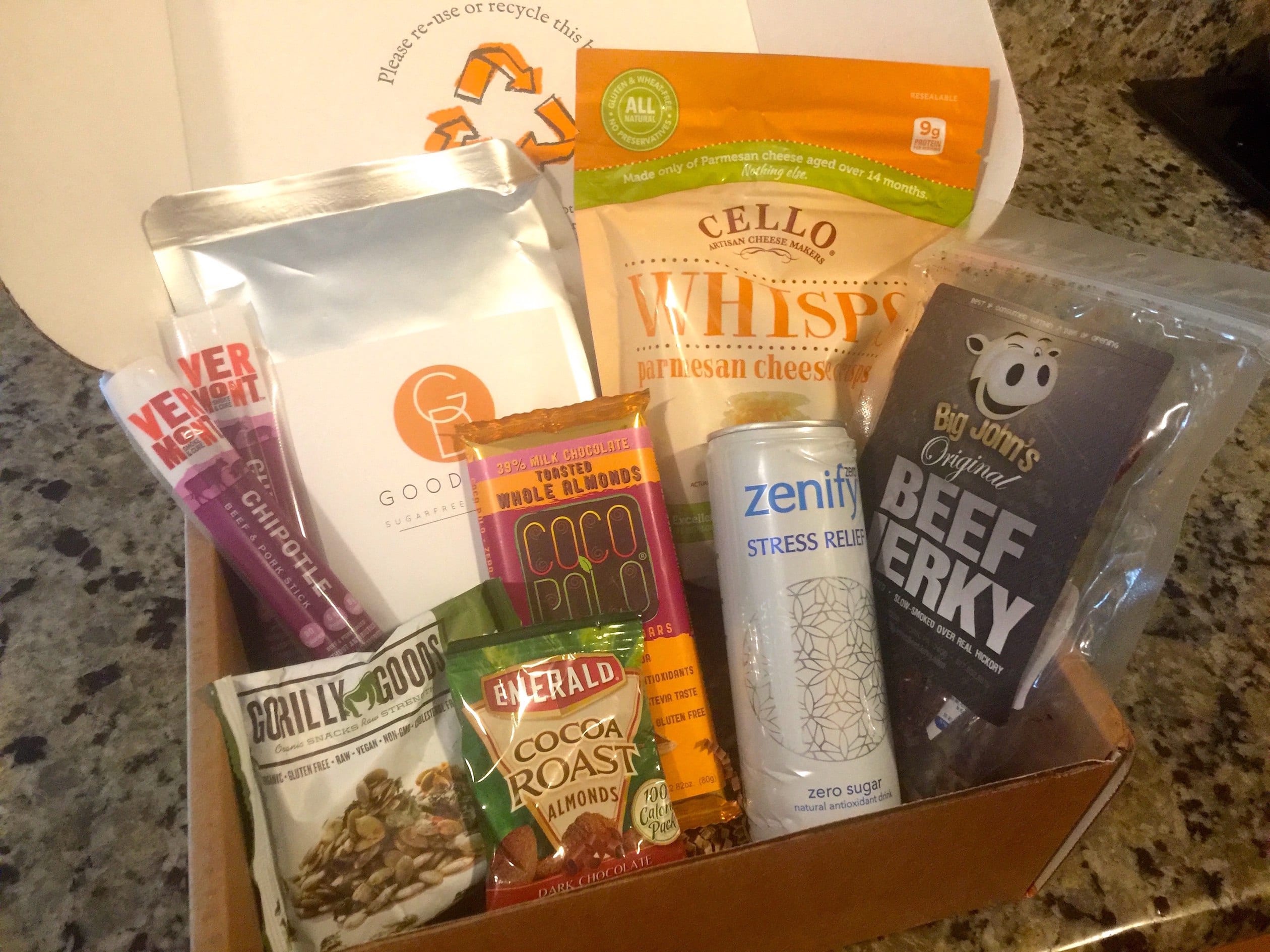 If you get Keto Krate, let me know what some of your favorite items were this month! Have a great day!