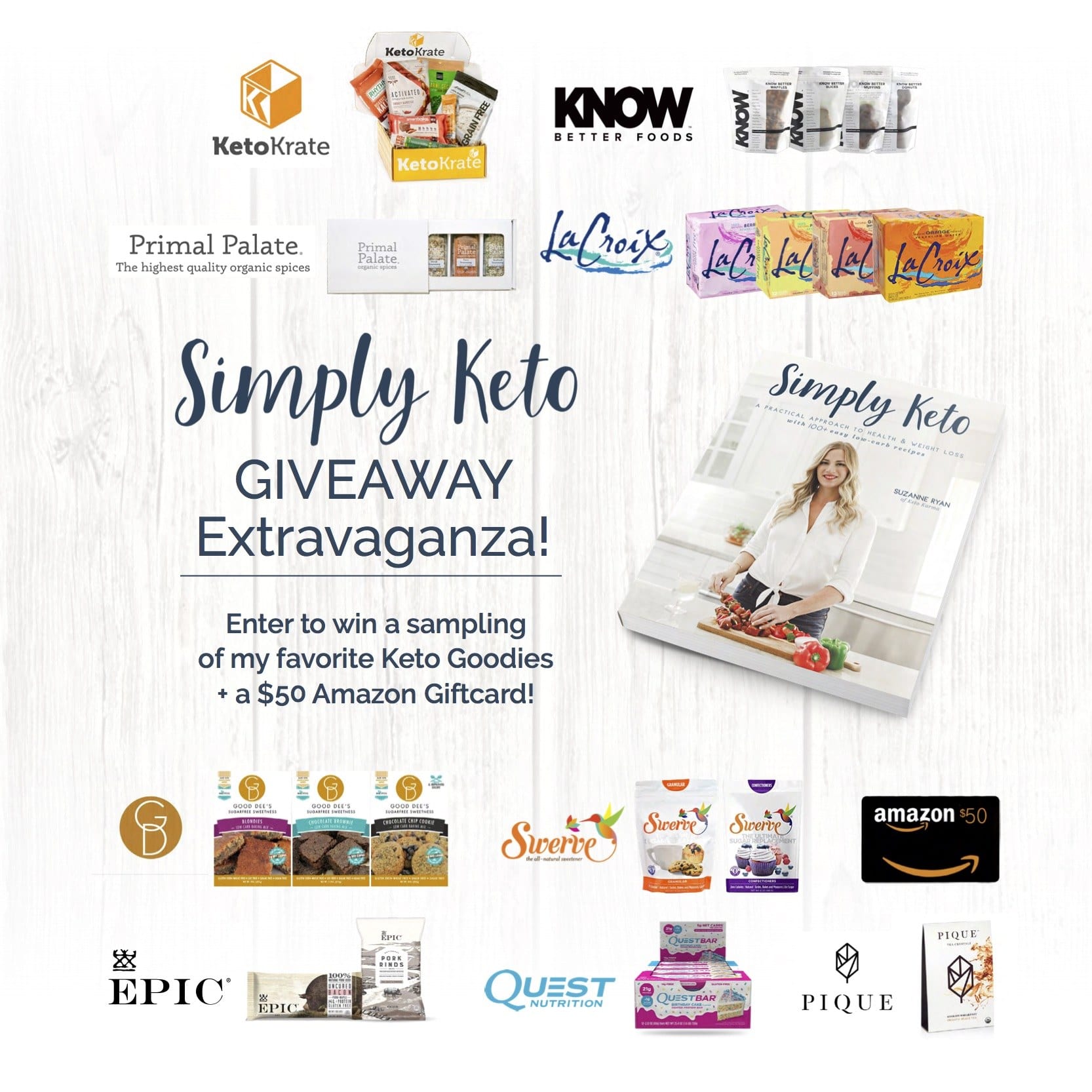 Thanksgiving Giveaway!
To celebrate Thanksgiving and the upcoming launch of my new book, I've teamed up with some of my favorite companies to bring you an epic Thanksgiving giveaway! 
One winner will receive the following prizes: 
1. @ketokrate – 3 month subscription 
2. @knowfoods – Sampler box with cookies
3. @primalpalate – 3 pack of Organic spices 
4. @lacroixwater – a variety of sparkling water 
5. @gooddeesmix – keto friendly brownie and blondie mix
6. @swervesweetie – bakers bundle (confectioners and granular swerve)
7. @amazon – $50.00 gift card
8. @epicbar – Bacon bars and pork rinds
9. @questnutrition – two boxes of the new birthday cake bars 
10. @piquetea – two boxes of the new organic hibiscus mint instant herbal tea 
To enter: 
For 1 entry – like this photo on Instagram or Facebook, follow/like my page, then tag a few friends in the comments below the image! 
For 5 entries – Do the above steps and pre-order my first book, Simply Keto (Link to order Simply Keto click here) If you have already pre-ordered you can still be included in this. Once you have pre-ordered, email me at [email protected] with a preorder screenshot or order confirmation and your 5 contest entries will be confirmed. 
Contest open Nov 21-Dec 1st.
No purchase necessary to enter. 
Open to the USA only. 
What you'll find inside of Simply Keto: 
Suzanne has shared every detail of her transformation, from the very first days of starting keto to her most recent successes, on her popular blog, Keto Karma, as well as on her YouTube channel and Instagram page. Her first book, Simply Keto, isn't just a cookbook; it's a portal into Suzanne's life and dieting success—how she accomplished the incredible feat of losing almost 40 percent of her total body weight and developed a healthier and more balanced relationship with food. In this book, she shares everything you need to know to get started and find your own success.
Inside, you'll find
• helpful advice for starting keto
• grocery shopping tips
• keto and weight loss FAQs
• more than 100 easy recipes
• a structured 30-day meal plan
• guidance for living and thriving with the ketogenic lifestyle
Pre-Order Simply Keto by clicking on the Simply Keto book image !