Looking for a delicious yet simple dinner that will wow your family or guests? This chicken with a creamy mushroom wine sauce is absolute GOALS. It's quick and easy, with only 8 ingredients it's ready in no time. Pair this dish with a glass of FitVine Wine Pinot Grigio for their perfect wine pairing!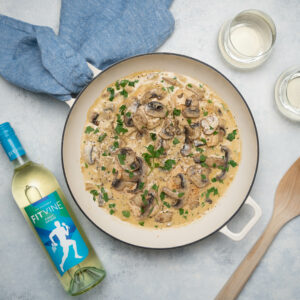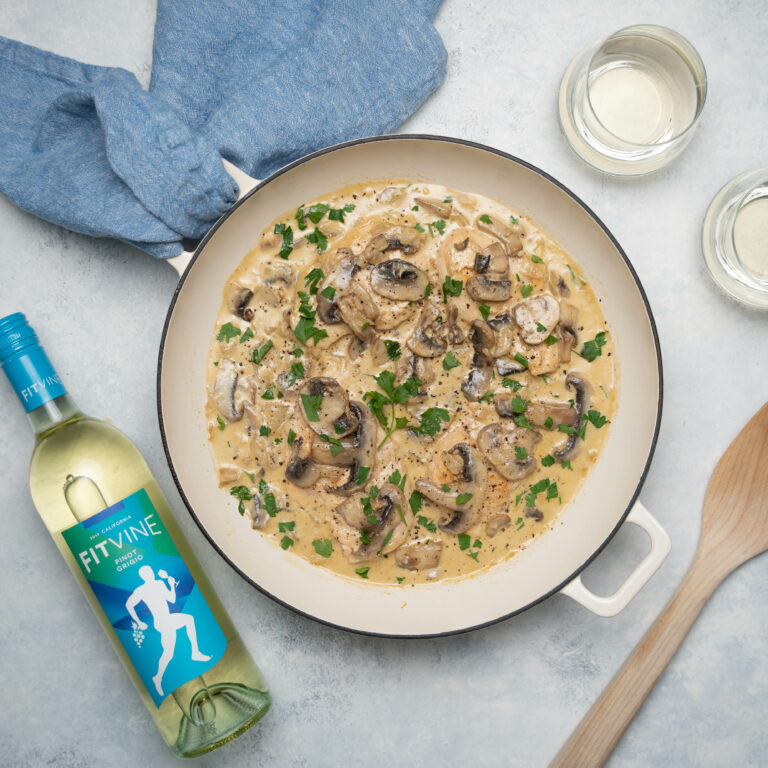 I teamed up with FitVine Wine to bring you this delicious and flavorful recipe. FitVine Wine was born when friends got together to make wines that fit into their active lifestyles. They focus on wines with rich flavor and low residual sugar, which is awesome for those limiting their sugar intake. I love that they share the nutritional information for all of their wines, so there's no guess work!
In this recipe, I used FitVine's Pinot Grigio which has only 0.09g of sugar and 2.5g carbs. This wine is slightly dry, with a crisp and clean finish with less sugar and no flavor additives. This delicious wine has floral notes on the nose, citrus at the finish.
All FitVine wines are gluten-free, vegan-friendly, non-GMO, keto and paleo.
Get 15% off with code KETOKARMA15 on FitVineWine.com

Chicken with Creamy Mushroom Sauce with FitVine Wine
Ingredients you'll need for this recipe:
Butter – Salted
Chicken breast – Boneless and skinless. Two medium to large breasts cut in halves lengthwise. This will give you 4 thin chicken breasts to cook.
Onion- On half of a medium onion
Garlic – Fresh minced or pre-minced from a jar. If you use minced garlic from a jar, it will be about 1/2 tbsp to equal 3 cloves.
Mushrooms – I buy pre-sliced white mushrooms.
FitVine Wine Pinot Grigio – One of my all-time favorite wines. You can grab a bottle here.
Heavy Cream- Any brand of heavy cream works, or you can use half and half if you're in a pinch. You will have to cook the sauce a little longer to help it reduce if using half and half.
Grated Parmesan Cheese

 – You can grate it yourself or buy it pre-grated. I prefer the brands in the refrigerated section for the best flavor. 

Salt and pepper: Season to taste
Parsley or Basil- Optional. Buy fresh and chop it for garnish
---
---
Add butter to a large preheated skillet on medium-high heat.

Season chicken breasts on both sides with salt and pepper. Place chicken breasts in skillet and cook on both sides, about 3 to 5 min per side, then transfer the chicken to a plate.

Next, add the onion, garlic, mushroom, and FitVine Pinot Grigio to the skillet. Let them cook for about 5 minutes, stirring occasionally.

Add heavy cream and parmesan cheese, stir and cook for 5-7 minutes, stirring occasionally or until sauce reduces and thickens. Add the chicken back to the skillet and spoon the sauce over the chicken. Season with salt and pepper to taste and garnish with basil or parsley.
Cheers!