Soups are one of my favorite meals. They most often are made using only one pot, and the prep time is minimal. This creamy, flavor-packed keto version of the classic Zuppa Toscana is sure to become a new favorite comfort food and probably a favorite soup of mine.
Zuppa Toscana Soup is a broad term for Tuscan Soup, and I love all things Tuscany. You may also want to check out my Tuscan Keto Chicken recipe if you like Tuscan meals. It is very similar to Carrabba's Tuscan Keto Chicken and it will not disappoint.
The traditional version of this soup is made with cannellini beans and potatoes, both of which we avoid on keto. To steer clear of all of the extra carbs, I substitute cauliflower for the beans. There are so many flavors and textures in this soup that you definitely won't miss them!
Dinner will be on the table in just 45 minutes when making this one-pot recipe.
Start by browning the Italian sausage and pancetta in a dutch oven or large pot.
Next add in the garlic and onions, cooking until the onions are translucent.
When the onions are done cooking, add the chicken broth, water, cauliflower, and crushed red pepper flakes to the pot and simmer for 5 minutes until cauliflower is crisp. Don't worry if the cauliflower doesn't seem soft enough because it continues to cook as the soup simmers.
Finally, stir in the chopped kale and heavy cream and allow the soup to simmer for 5-10 minutes.
When you're ready to serve, you can top the keto Zuppa Toscana soup with parmesan cheese.  You can have this soup on its own or with a slice of keto bread or a Keto Dinner Roll.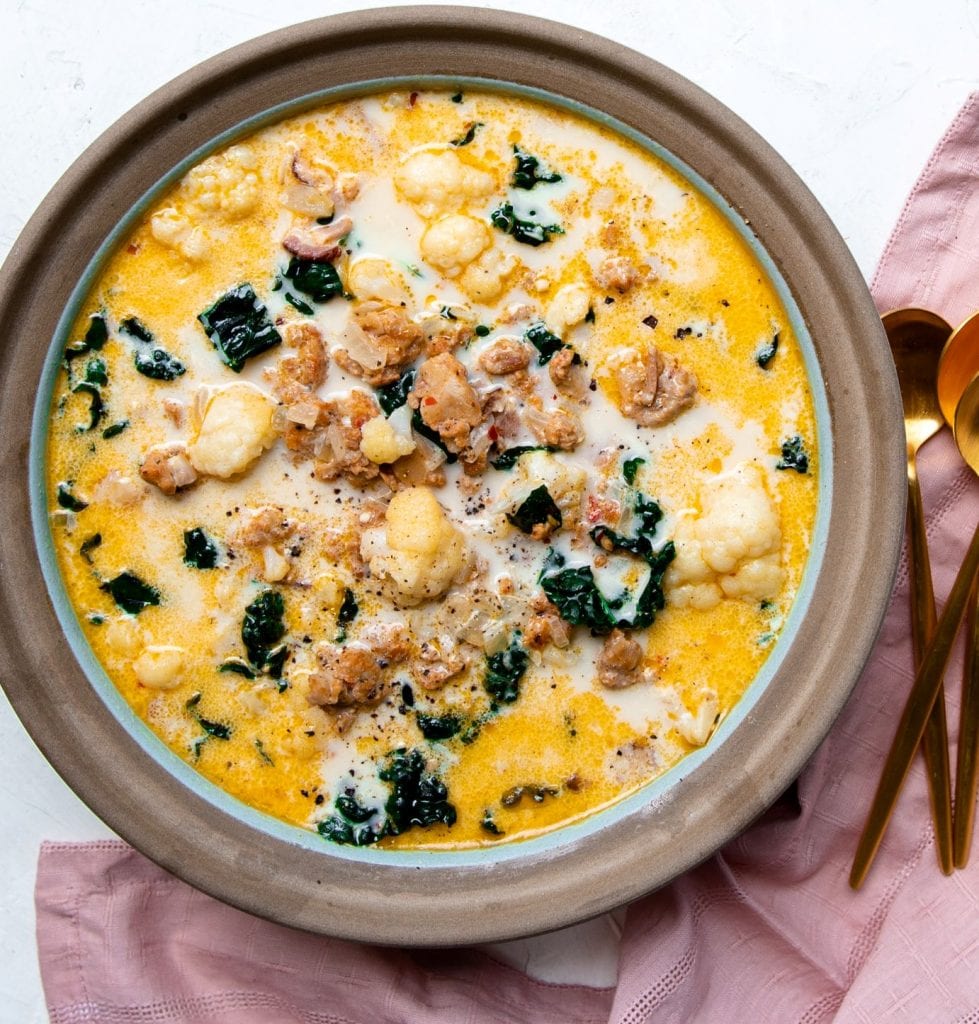 ---
---
In a dutch oven, crumble the sausage into small pieces into a dutch oven over high heat. Add in the pancetta. Brown the meat for about 5-6 minutes, until pancetta is crisp and fat is rendered.

Add onion and garlic to the pot and cook for an additional 5 to 6 minutes or until the onion is translucent.

Add chicken broth, water, cauliflower, and red pepper flakes to the pot and simmer for 5 minutes until cauliflower is crisp fork tender (it should not be too soft at this point because the soup will continue to simmer).

Add the kale and heavy cream to the soup, and simmer for an additional 5-10 minutes, until kale is soft. Season to taste with salt and pepper.

Serve warm and top with parmesan cheese, if desired. 

Store leftovers in the fridge for up to 4 days.
If you're a fan of soup like I am, I have more hearty soup recipes for you to enjoy. I will also continue trying to ketofy as many Tuscan meals as I can. Thank you for reading and hope you really enjoy this recipe.