My NutriSense CGM Journey
Hey there! Today, I want to share my curiosity and experience using the NutriSense CGM program. Before I get started, if you haven't heard of a CGM, it stands for continuous glucose monitor. A CGM is a small device that tracks your blood glucose levels continuously and in real-time. You place the device on the back of your arm and wear it for 14 days. By scanning the device with the NutriSense app on your phone, you can see how your glucose is changing in real-time and in response to all types of variables, such as food, exercise, stress, and sleep.
A few months ago I noticed several of my friends sharing about trying the NutriSense CGM program, and it caught my attention right away. As many of you know, I live a ketogenic lifestyle and have lost 120 lbs by quitting complex carbs and sugar. While I have a blood glucose and ketone meter, I genuinely don't like pricking my finger multiple times a day to check my glucose readings.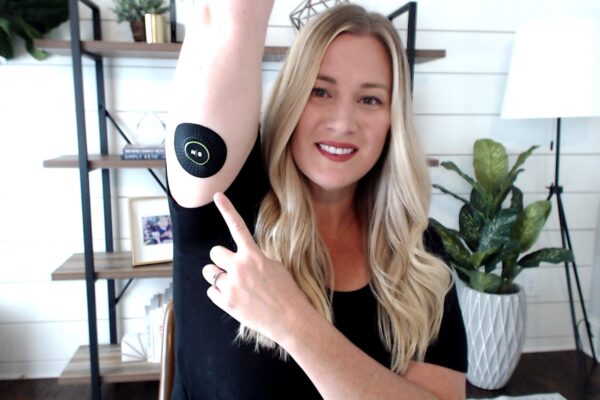 While the CGM only tells you your glucose and not ketone levels, you gain a lot of information from knowing your glucose response after eating, working out, stress and sleep. One of the things I was looking forward to the most was being able to test different foods, like diet soda, some "low carb" items, and keto desserts. Since food reacts differently in everyone's body, I was really excited to find out what things did well in my body and what things I should avoid — even if it was technically "keto friendly".
I placed my order and chatted with the team at NutriSense about sharing my experience after I was able to try the program. I always like to try something myself first and decide if I love something before sharing it with all of you. In fact, I've been blogging for about six years and this is one of the first programs that I loved enough to share about. NutriSense gave me an affiliate code to share with all of you, which will give you $30 off your first order with them. To get your $30 off, use code KETOKARMA during checkout at NutriSense.io
(After seeing my results, Mick started the program as well, so I will update this post with his experience soon!)
What I learned
After having two CGM's in for a total of four weeks, and having the support of a NutriSense nutritionist, I'm a HUGE fan of this program. I think countless people could benefit from this information and accountability. I was blown away by what I learned and I'll share a few of those with you below.
For one, I think the CGM is great for accountability and getting back on track. You have the option to log all of your food and for the first 30 days, you'll have a nutritionist looking at everything you've logged and helping you along the way.
The NutriSense program is also a great way to test the foods that you eat. With this data, you'll be able to see if the foods you are eating respond well, or don't respond well in your body. This is super helpful because there are foods that can stall people, or kick them out of ketosis – therefore if you see that something you ate spiked your blood sugar, you can glean that it also likely knocked you out of ketosis (which you can confirm by checking your blood ketones if you see a glucose spike).
I also did one 24 hours fast while wearing my CGM, and it was really helpful to track blood sugar while fasting. I've always struggled with extended fasts, and it was cool to see my blood sugar while tracking how I was feeling at the same time.
Another amazing learning was to see how exercise, sleep, and stress affects blood glucose. Often times my blood sugar would increase at night time, which honestly is where I experience most of my anxiety and stress. During the day I'm often so busy juggling all the things, but at night time when things slow down, I sometimes struggle with anxiety. I was able to test doing things like a walk after dinner or meditation before bed and it actually kept my blood sugar more level and helped improve my sleep.
My data
As you can see below, on Aug 9th you can see an example of my blood sugar, and how it is displayed in the NutriSense App in increments of 15 minutes.
On Aug 10th at 1:28 PM, I went out to lunch with a friend and we had Brussels sprouts and deviled eggs with bacon and salad. You can see that my recovery score was a 5 our to 10, which isn't horrible but lets me know that something that I ate wasn't optimal for my blood sugar recovery as opposed to other meals where my recovery was a 10/10. It's always hard to know all of the ingredients that go into food from a restaurant, but the CGM really helps you see how your glucose reacts to each meal.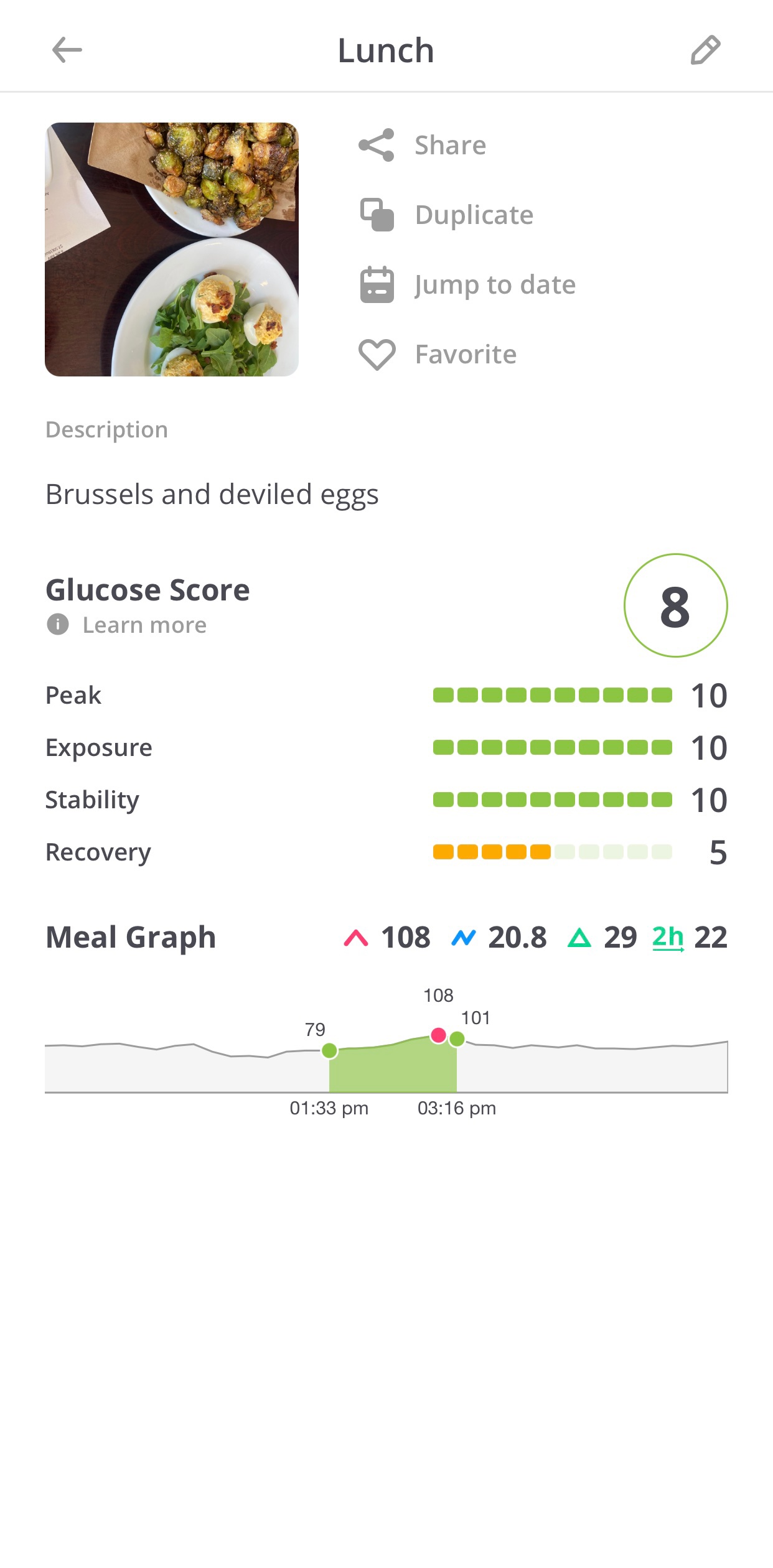 Ultimately, I honestly think that using this program will be a big help and eye opener for a lot of people who are focused on their health. I'm currently on my third sensor and while I won't always have a sensor, I learned really important information from this program and will randomly order more CGMs through NutriSense when I'm doing more bio-hacking/testing!
I also found an unintended bonus of staying on track with the accountability and instant knowledge of how my blood sugar is effecting by what I eat! Needless to say, I'm a big fan of NutriSense and cant wait to hear about your experiences if you decide to give it a try as well!
Questions and Answers
(When I shared about my CGM on Instagram I received several questions which ill share and answer below.)
Are you a diabetic? No, I am not diabetic. While diabetics often use a CGM, you don't have to be a diabetic to benefit from learning about your glucose levels. Before registering for the program each member is required to fill out a health questionnaire that determines whether they qualify. Once the questionnaire is completed, it is reviewed by a medical professional who writes a prescription if appropriate.
Does it hurt to put the CGM in? As mentioned above, I genuinely don't like pricking my finger, so I was a little nervous to put in the CGM device. I can say that putting in a CGM is almost pain-free, and for sure less painful than a finger prick! I'm on my third CGM now, and it truly doesn't hurt, which is great news for people like me who are more sensitive to pain.
How much does the program cost? There are several different options, and you can find the pricing here. Remember, you can use my code KETOKARMA during checkout for $30 off! 
How long do you recommend doing the program for? I personally signed up for the 30-day commitment, which is a month-to-month plan that includes two 14-day CGM sensors and one month of dietitian support. During that time I found the nutritionist to be SUPER helpful and encouraging and we accomplished a lot of food tests. They also have the option to sign up for  3, 6, and 12-month plans as well. If you're the type of person that could really use more accountability then a longer plan could be really helpful!
Does anyone help you understand the data? Yes, for the first 30 days you will have access to a dietician that is assigned to you after you place the CGM in your arm. You talk to the dietitian in the NutriSense app under messages and they work with you on your goals.
What are some of the foods/drinks that you tested?  So many! The main ones I was curious about was diet soda (coke zero), low carb wraps (most have gluten so I wanted to see how I reacted), sweet potatoes, and I tested several of my favorite go-to meals while eating out at restaurants to see if I did well with them. The results were so eye-opening! I learned a lot and there are some meals that I won't eat now since I realize they didn't work well with my body!
How do I see the data? You scan the sensor in your arm at least once every 8 hours, which shows you your blood sugar in increments of every 15 mins within the 8-hour window in which you scan the sensor.  NutriSense has a really user-friendly app that you download for free to track everything. If you have an iPhone 7 or newer, a Samsung Galaxy S6 or newer, Google Pixel 1 or newer, then your phone has the NFC technology to scan the sensor.
I can't wait to hear what you all discover if you end up getting a CGM device. If you do get one, be sure to let me know how it's going and what you've learned. After having three, I'm fascinated by learning more about blood glucose and how to optimize our health with helpful tools like a CGM.
Warmly,
Suzanne Ryan