If you are looking to start a Keto diet or low carb diet and aren't quite sure where to start, I have some ideas for you. I chose my top 5 favorite keto recipes that you can enjoy by yourself, with loved ones, or at a pot luck. The ingredients in these recipes are low carb and keto-friendly. Alternatives are used when needed to reduce the amount of carbs consumed and give you the healthy fats needed. Take a look at some of the best Keto recipes and give them a try yourself.
Keto Potato Salad (made with Cauliflower)
Cauliflower is one of my favorite grains to use on a keto diet because it doesn't have the same texture or flavor as rice or wheat-based foods. It's mild but can be seasoned up nicely with spices and herbs. We love cauliflower rice but have also found that cauliflower is a fantastic substitute for potatoes.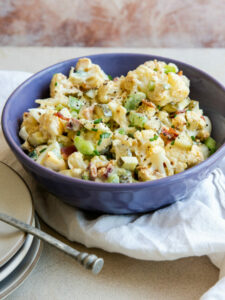 This Keto Cauliflower Potato Salad is so simple to prepare and is a great keto option! You just need to chop up some cauliflower florets, mix them in with some boiled eggs and mayonnaise (or you could use avocado instead), roast until golden brown, and add some pickles, and other veggies if you like. We love using celery, green onion, dijon mustard, and even bacon.
You wouldn't believe it but this recipe has only 1 net carb!
Grilled Salmon with Avocado Salsa
This Grilled Salmon with Avocado Salsa Recipe is another one of my favorite keto recipes because it's a healthy way to get your omega-3 fatty acids. Salmon is also rich in protein and potassium, some nutrients your body with thank you for.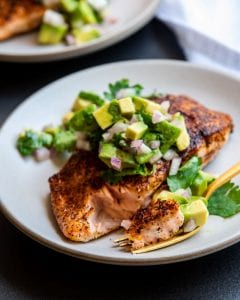 The avocado salsa adds some extra calories to this meal, but they certainly aren't unhealthy calories. If you aren't a fan of avocado, leave it off. The salmon tastes exceptional without anything. Serve it with your favorite keto side instead. The avocado is just a great way to add good fats to any meal you are eating.
This recipe has 3 net carbs. You'll be adding this to your list of keto dinners after trying!
Keto Coffee: Oatmeal Cookie Coffee
One of my favorite keto recipes is coffee! Not only is it a delicious and satisfying morning beverage, but it also makes a great snack. Filling your coffee mug with keto oatmeal cookie coffee can leave you feeling energized all morning, without the sluggishness of added sugars and creams. I have a sweet tooth, but this coffee helps because I don't have to mess with sugar substitutes that just don't cut it.
If you're looking for something more exciting than a cup of joe, then this Keto Oatmeal Cookie Coffee Recipe is for you! It's made with brewed coffee, Brown Swerve, vanilla extract, unsweetened almond milk, half and half, and a pinch of cinnamon. Use coconut milk if you prefer it over almond milk. Once everything is combined, it tastes just like a homemade oatmeal cookie. Everyone I share this treat with is obsessed.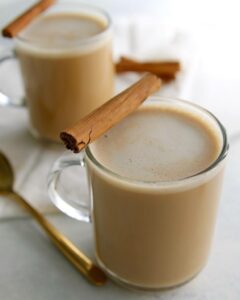 I usually just take my coffee with heavy cream or sweeteners but sometimes I need something with a little more pizzazz, and this keto oatmeal cookie coffee hits the spot.
The best part about this recipe? It's only 2 net carbs.
Chicken Enchilada Casserole
A low-carb casserole is a great way to get the flavor of enchiladas without all the fat and carbs. This recipe uses priced cauliflower, cream cheese, and shredded chicken breast to create a rich filling that you can easily make ahead of time. The simple ingredients combine to provide a wonderful flavor, without the added carbs.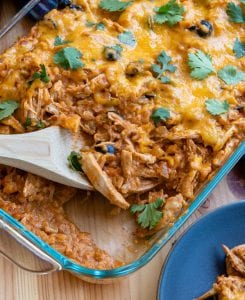 Enchiladas are traditionally made with corn tortillas that are wrapped around meat and browned in oil or butter before being filled with sauce and cheese. This Keto Chicken Enchilada Recipe replaces these ingredients with low carb substitutes like cream cheese and cauliflower to ensure maximum flavor while keeping carbs low. Not to mention, there are no tortillas in this recipe.
This casserole is a fantastic meal to make for the whole family or to share at a potluck. Everyone loves this healthy dish. This recipe has 5 net carbs.
Keto Eggroll in a Bowl
Eggs are a major staple of the ketogenic diet, so it's no surprise that Keto Eggroll in a Bowl is also one of my favorite keto recipes. This low-carb meal can be made with ground beef or pork (the meat is browned first with the garlic and spices), then simmered with egg, coleslaw mix, green onions, and soy sauce until tender. It's easy to make this in bulk and freeze it for later use! I like to use it as one of my go-to keto lunch recipes.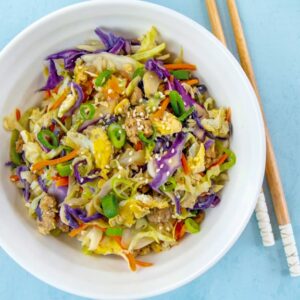 This recipe gave me a good reason to try something new, and I didn't regret it. It's a delicious keto-friendly meal the whole family can enjoy.
Here are some tips:
Use extra-firm tofu instead of ground beef or pork if you prefer (or omit it altogether).
You can also opt for tender chicken breasts if you don't love red meat.
Try adding 1 tablespoon of coconut aminos to give it more flavor.
If you don't have green onions on hand, use red ones instead! Or just go for white if none of those sound appealing. They'll all work equally well here 🙂
There are 5 net carbs in this simple dish.
Try out these delicious and easy recipes if you're on a keto diet!
I hope these keto recipes give you a glimpse into how delicious healthy eating can be. They are some of my favorite keto recipes and I'm excited to share them with you. It's not about sacrificing the yummy parts of the dish, it's about finding ways to keep the carbs low and get creative with your ingredients. When making low carb recipes, be smart about extra additives that will up the net carb count. These easy meals will get you one step closer to a low-carb meal plan you love.
If you're wondering what keto is, or if you've tried it and want to know why it didn't work for you, check out my website to read about my journey to a Keto lifestyle. You will learn all about me, my experiences, my cookbooks, recipes, and how I want to motivate others on this amazing path. You will see my weight loss journey, but more important my overall health transformation. This diet can help with blood sugar issues, healthy eating, and a low-carb lifestyle.