Baked Brie is one of the easiest and most delicious appetizers. This creamy keto baked brie cheese is perfect for gatherings with friends and family and is sure to be a new favorite. I used a simple homemade sugar-free raspberry preserves, but you can also buy store-bought sugar-free preserves if you'd like! This appetizer pairs perfectly with my new Defy Foods keto crackers!
Baked Brie used to be one of my favorite appetizers before I started eating keto. I used to make it with phyllo dough, which clearly isn't gluten-free or low in carbs. One day I was craving a baked brie and decided to just make it without the dough.  I was shocked by how delicious and simple it was — and truthfully I didn't miss the phyllo one bit.
All of the delicious flavors of the savory creamy baked brie with the sweetness from the sugar-free raspberry preserves hit the spot. It's really amazing how we can modify our favorite recipes to fit our lifestyle, while still enjoying foods that we love!
Watch how to make this recipe!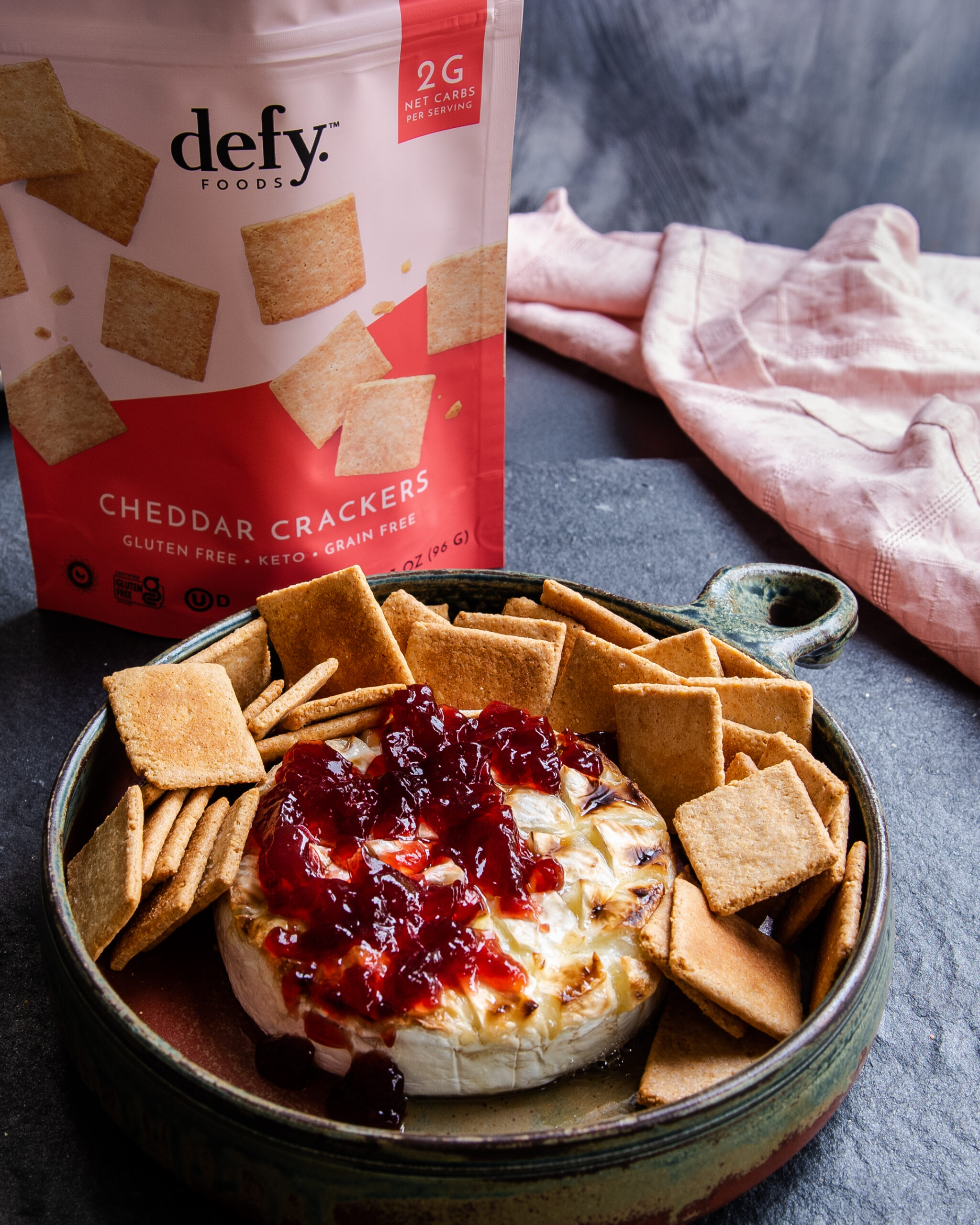 How to make keto baked brie
First, you're going to want to start pre-heating your oven to 350 degrees F.
Next, you're going to unwrap your favorite brie cheese and place it into an oven-safe baking dish. If you plan to transfer the brie to a serving dish after baking, be sure to line the bottom of the baking dish with parchment paper so that you can easily move the brie when it's ready.
Next, lightly score the top of the brie with a sharp knife. You'll want to score it vertically and horizontally and try not to go too close to the edges, leaving about 1/4″ from all sides uncut.
Next, top the brie with a sugar free preserves (you can make your own or use store-bought) and spread it over the top of the brie.
Place the baking dish into the preheated oven for 15 mins, then carrels remove and serve. This dip pairs amazingly my newly released Defy Foods Keto Crackers!
Ingredients in this recipe
Kitchen items needed
FAQs
Can I use another preserve besides Raspberry?

Yes! Feel free to use any flavor of preserves, if you are eating low carb/keto, just make sure it's sugar-free and low in total carbs.

Can I add anything else on top?

Yes, sometimes I add chopped nuts on top, like pecans, walnuts, or almond slices.

What else can I serve this with besides keto crackers?

You can also serve this recipe with pork rinds, celery, or fresh chopped veggies (cauliflower, broccoli, peppers, etc.)

Can I make this recipe in a microwave?

Yes! You can microwave the brie instead of using an oven. I generally start with one minute on high and check the center with a sharp knife to see if it's completely melted.
If it's not fully melted after one minute them I add 15 seconds at a time until it's ready. Be careful not to overcook the brie in the microwave, this could cause the brie to separate or pour out of the sides.
---
---
Preheat your oven to 350 F

Unwrap the brie and place it into a oven safe baking dish. if you need to transfer to brie to a serving dish after baking, remember to use parchment paper on the bottom of the dish. 

Score the brie vertically and horizontally leaving 1/4" uncut as you get towards to outer edge of the brie. This will prevent the brie from spilling out as the cheese melts in the oven.

Top the brie with 1/4 cup of sugar free raspberry preserves

Place in the oven for 15 mins, carefully remove and serve immediately. Pair with our Defy Keto Crackers