Have you ever considered making homemade raspberry preserves? It's much easier than you might think! There are only 8 ingredients and you are done in just half an hour. I like recipes that can be made using only one pot, and this is one of those recipes. I like to use these raspberry preserves on a variety of things, including keto bread, keto waffles, keto pancakes, keto crepes, and one of my favorite a keto brie!
You can also make preserves with various other berries, like blackberries, strawberries or blueberries.
Curious about the number of carbs that are in different berry types? Check out this chart from my second book, Beyond Simply Keto to see the total and net carbs per 100 gram serving of these four main berries. As you can see, Strawberries, Blackberries, and Raspberries have the lowest carbs, so if you are looking to make preserves, these are your best options. While Blueberries are delicious, and okay to eat in moderation, they do have a bit of a higher carb count compared to the other berries.

How to make keto raspberry preserves
Add all of the ingredients (except the xantham gum) into a small sauce pan, let it boil, and then cook for 20 minutes. Keep an eye on it and stir it occasionally so that it doesn't burn. Next, add the xantham gum and whisk it for an additional 2 minutes until it starts to thicken. Don't worry if it's not entirely thick, it will continue to thicken as it cools.
It may seem like skipping such a small amount of xantham gum won't make a difference in this recipe, but it will! Xantham gum is a thickening agent, and it is necessary to help the preserves come together. You can also use it to thicken up dressings, yogurt, and other sauces.
Ingredients in this recipe
Raspberries
Swerve Confectioners Sweetener
Water
Lemon Zest and Juice
Ground Ginger
Pumpkin Spice
Xantham Gum (which acts as a thickener)
Kitchen items needed
Small Saucepan
Mixing spoon
Small airtight container /Tupperware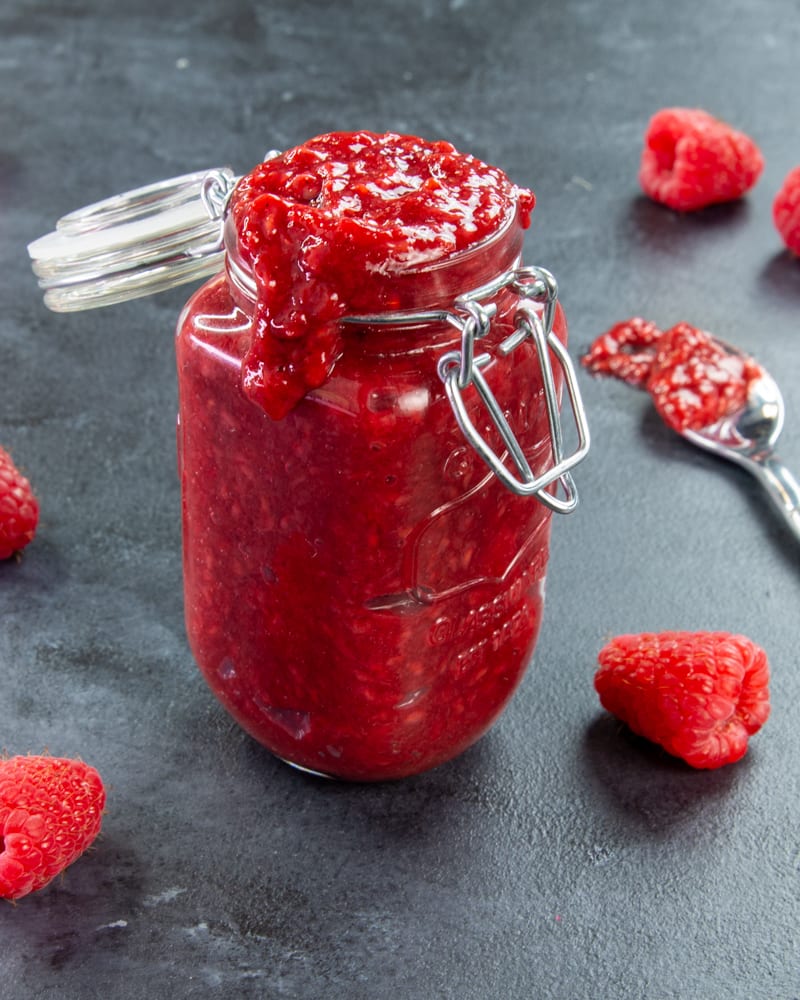 ---
---
Bring all ingredients to a rolling boil in a small saucepan and cook for 20 minutes, stirring often. Sprinkle in xanthan gum and whisk for an additional 2 minutes until jam starts to thicken (it will continue to thicken as it cools). Take the saucepan off of the heat and let jam cool completely before transferring it to an airtight container to store in the fridge and use within 1 week.
Looking for an amazing recipe to make with your raspberry preserves? Check out this delicious and easy keto baked brie recipe!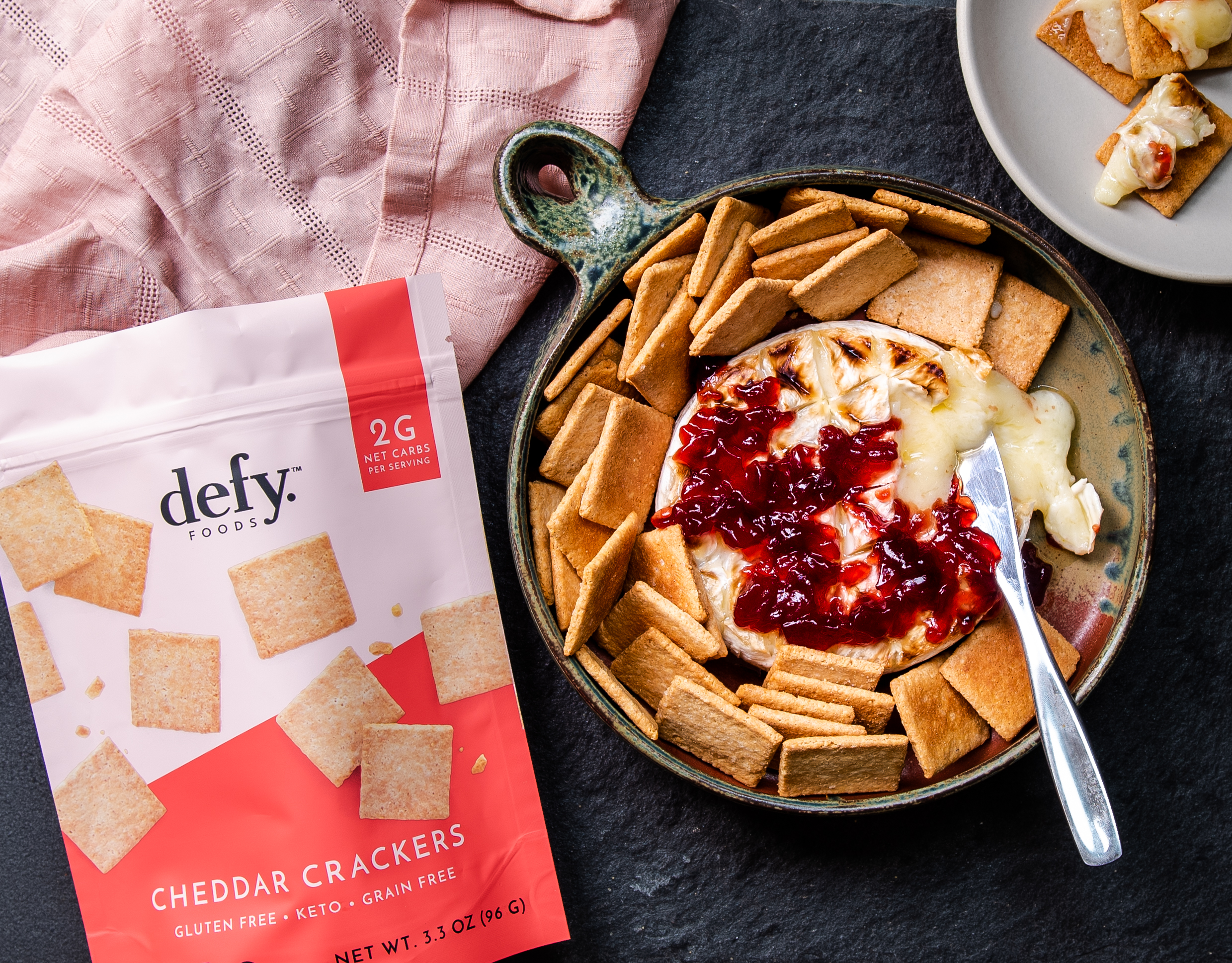 Once the preserves cool, they'll be ready to eat. Keto Raspberry preserves are naturally sweet, and can be eaten a variety of ways. Try it on a toasted slice of keto bread for a quick breakfast or snack. Make a PB&J for the kids' lunches. Or make cream cheese pancakes with a dab of preserves on top. Store in an airtight container in the fridge for up to a week – if it lasts that long!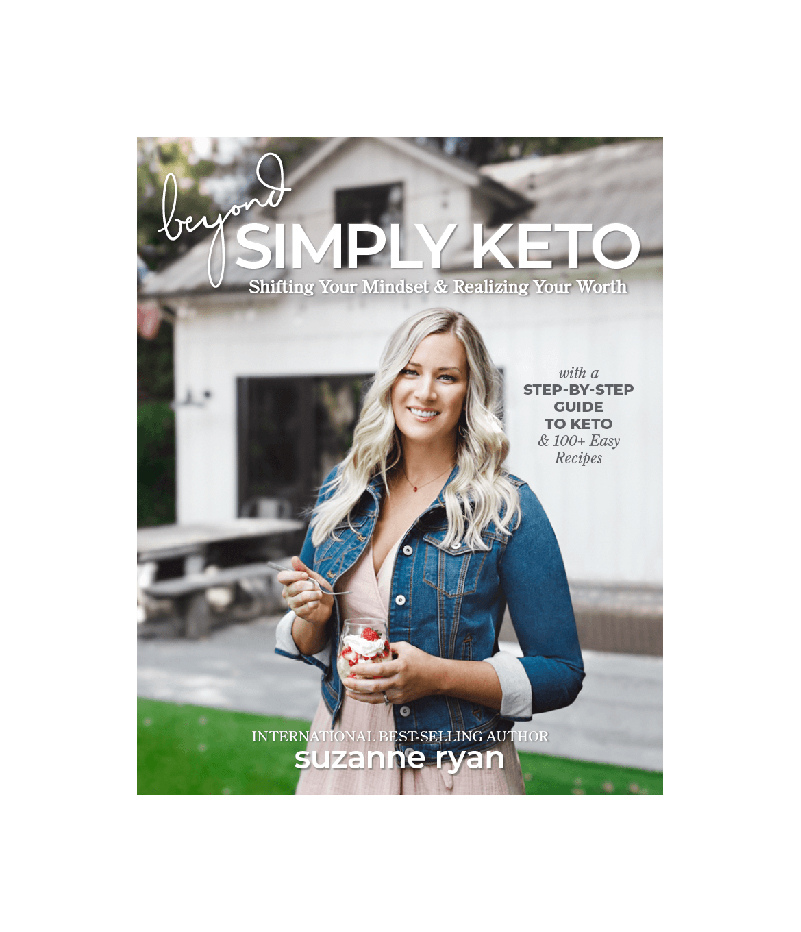 As mentioned above, my second book Beyond Simply Keto is now available wherever books are sold and on Amazon.
Curious to learn about what's inside? Here is a brief overview:
Have you ever been so focused on losing weight or self-conscious about your body that you developed the belief that you could only fully love yourself or be happy AFTER you lose weight?  If so, Suzanne Ryan can totally relate, but she's here to share with you some unexpected twists, turns, and discoveries she made after losing 120 pounds with a ketogenic diet.
Following up on her best-selling book, Simply Keto, Suzanne walks you through the next chapter of her journey in her new book, Beyond Simply Keto. With compassion and vulnerability, she shares the three main steps that have made the biggest impact on her mental health and ketogenic lifestyle. She relates personal stories of dealing with anxiety, emotional eating, and depression while overcoming her biggest critic of all: herself.
Beyond Simply Keto shows you how to go beyond food and dieting and empowers you to take a step further to heal and transform your mind and body from the inside out.
In this book, you'll find:
An easy beginner's guide to the ketogenic diet
Three important steps that can change your life
Helpful tips and advice for living a ketogenic lifestyle
Over 100 simple and delicious new recipes
A 30-day meal plan with weekly shopping lists
Printable worksheets for accountability, self-care, meal planning, and more
Encouragement to be the best version of yourself!
You'll also find recipes that your whole family will enjoy, including:
Blueberry Lemon Scones
Three Cheese Souffles
Coffee Cake
Broccoli Cheddar Soup
Spinach Artichoke Dip
Shepherd's Pie
Simply Keto Lasagna
Cheddar Chive Biscuits
Cookie Dough Bites
Strawberry Shortcake Parfaits