Keto Everything Bagels coming in hot!
Today, I am sharing one of my favorite recipes from my newly released second book, Beyond Simply Keto!
*Please note there was an error in Beyond Simply Keto for the macros of this recipe. We strive for accurate macros, but sometimes mistakes happen. This is a great reminder to double check the macros of the ingredients you select within any macro tracker. Unfortunately there are a lot of inaccurate ingredients in tracking apps, so always double check the macros online to ingredients you use at home. So sorry for this error! We will update the correct macros in the book for future printed copies, and the correct macros are now updated and listed below.
There are a million low carb bagel recipes out there, but I found that using flaxseed meal really makes this recipe special. Not only is flaxseed full of omega-3 fatty acids and fiber, but it also really changes the texture of these bagels to become more "breadlike" than most other keto bagels I've tried.
Once you're done baking these bagels, allow then to cool a bit, then slice in  half and pop them into the toaster. Next, add your favorite low carb spread, like butter or cream cheese (my fav!), and enjoy!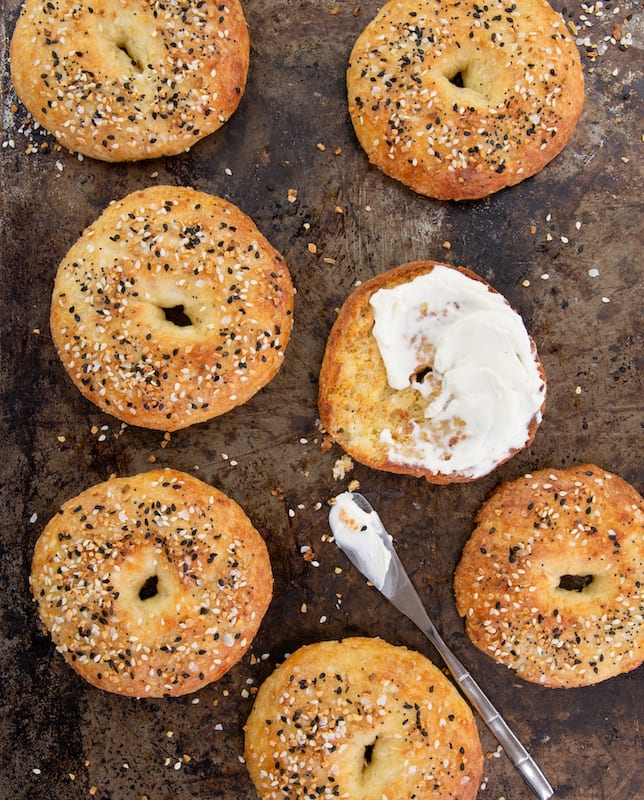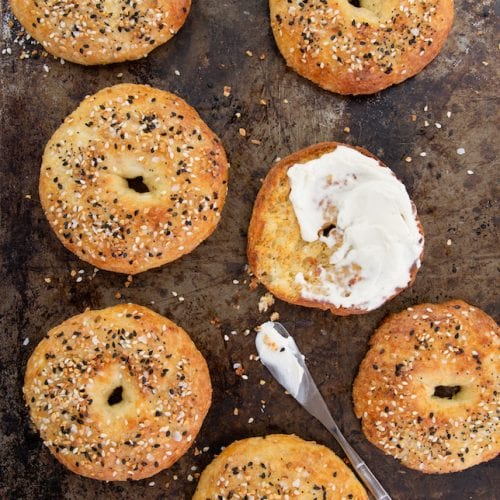 Instructions
Preheat the oven to 400°F. Line a baking sheet with parchment paper or a silicone baking mat.

Microwave the mozzarella and cream cheese for 2 minutes. Take out, stir, and microwave the cheeses for an additional minute. Take out and stir until the cheeses are combined and smooth.

In a large bowl, whisk together the almond flour, flax seed meal, baking powder, and salt.

Add the mozzarella mixture and eggs to the dry ingredients and start kneading with your hands. You can also do this in a stand mixer with a paddle attachment. Make sure everything is well mixed together.

Divide the dough into 6 equal portions, then form each into a round disk, about ½ inch thick. Using your finger, poke a hole into the center of each disk and mold to form a bagel shape.

Whisk the remaining egg in a small bowl. Brush the egg wash on the top of each bagel, then carefully sprinkle the bagel seasoning evenly onto the tops of the bagels.
Nutrition
Serving:
1
bagel
|
Calories:
426
kcal
|
Total Carbs:
10
g
|
Protein:
23
g
|
Fat:
33
g
|
Fiber:
5
g
|
Net Carbs:
5
g