Depending on how you run your keto lifestyle, you may or may not eat breakfast. If you eat breakfast, the perfect way to start your day is with some healthy fats and low-carb keto breakfast ideas. I have a list of 5 delicious recipes for the breakfast lover that stick within the parameters of your ketogenic diet. Take a peek at what they are and enjoy!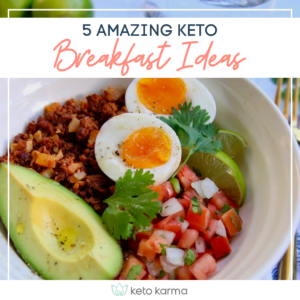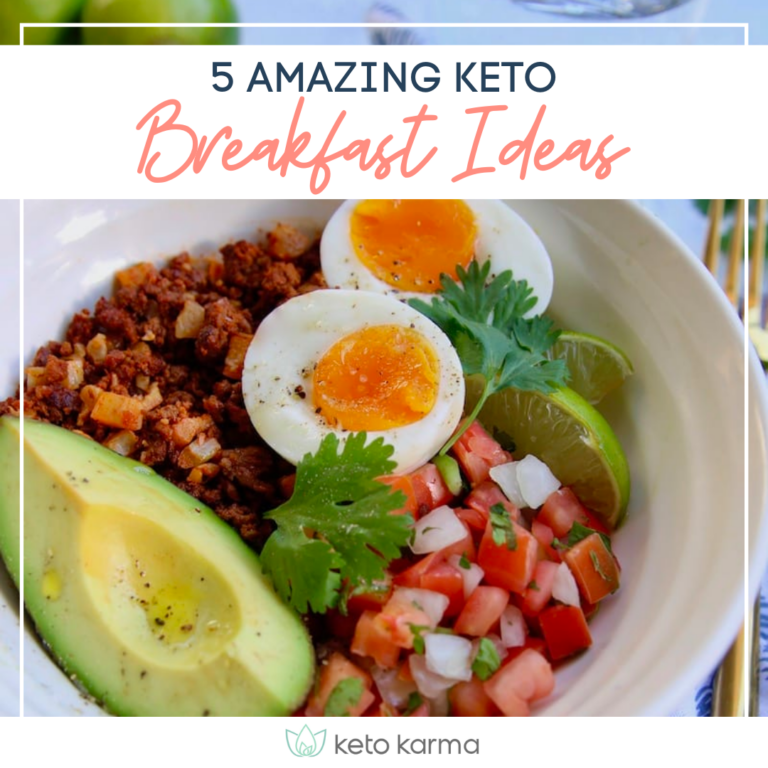 Keto Chorizo Breakfast Bowl
This simple breakfast dish is hearty and delicious. It's an easy way to start the day and it's simple to meal prep for the whole week. The entire family is sure to love it and it's one of the best ways to start your morning. This meal is only 7 grams of net carbs.
If you're not familiar with chorizo, I think you'll really like it! Chorizo is a type of pork sausage that's packed with spices and tons of flavors. Not sure what pico de gallo is? It's like a little fresh salad of chopped tomato, onion, Serrano peppers, with salt, cumin, lime juice, and cilantro. It's delicious! You can find it in the produce section of your grocery store, or you can make your own.
The Chorizo Breakfast Bowl consists of chorizo, riced cauliflower, eggs, avocado, pico de gallo, lime, and cilantro. The combination of these amazing flavors gives you a great breakfast any time of year. We love eating it in the warmer months because of the lime and cilantro, but it is great any time of year.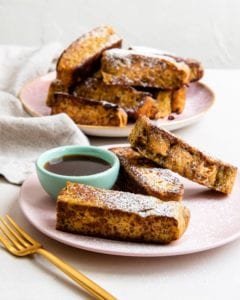 Keto French Toast
Who doesn't love french toast! This Keto French Toast will have your mouth watering. You may be asking how you can enjoy french toast on
a keto diet. You just have to use the right bread!
This french toast recipe is made from homemade bread. The bread is made of almond flour, baking powder, Swerve, eggs, and avocado oil. Bake your batter for about 20 minutes and the toast is ready.
The rest of the steps are similar to your traditional French toast recipe. Add some cinnamon and sugar and enjoy this sweet treat! This recipe is only 2 grams of carbs. Serve your french toast with a side of fresh berries or sausage patties and you have a wonderful meal.
Keto Breakfast Pizza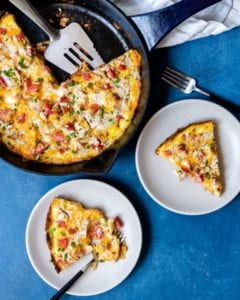 One of the simplest ways to prep for a breakfast for multiple people is to make a Breakfast Pizza! The meal makes 6 servings, making it the
perfect dish for meal prep. You're set for the whole week. You basically just dump everything you want into a deep dish pan and bake it. The cool thing about this recipe is that you can customize it based on your preferences and keep it keto.
To make the breakfast pizza, you will be creating your own crust out of mozzarella cheese, almond flour, garlic powder, and salt. Begin by baking your crust and then adding your other ingredients. We like to add eggs, roma tomatoes, bacon, and everything bagel seasoning. Get creative with yours!
Other delicious toppings might include red bell pepper, keto sausage, mushrooms, or green onions. The possibilities are endless. You could even make these in muffin cups if you have the motivation. They are quick to grab on busy mornings.
Lemon Poppyseed Muffins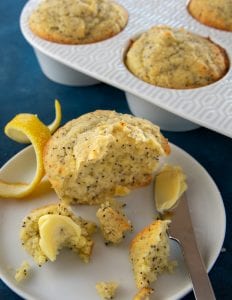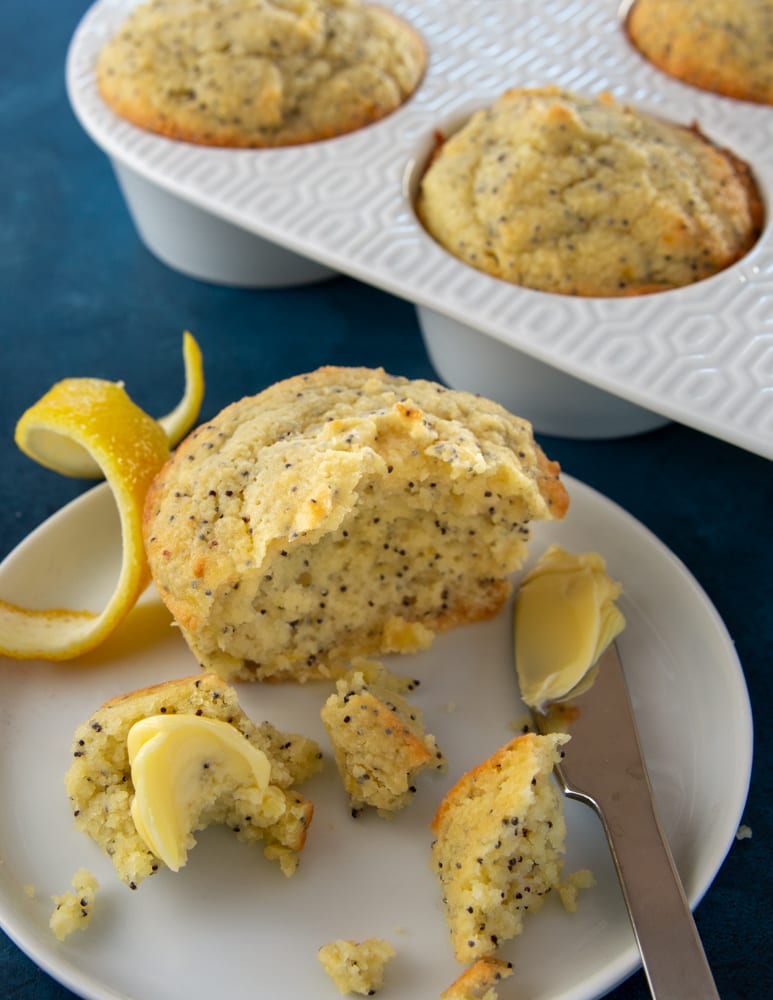 Make some simple Lemon Poppyseed Muffins for easy meal prep and a delicious breakfast. They're perfect for a quick breakfast on the go. The tartness of the lemon zest and the crunchiness of the poppyseed is one of my absolute favorites.
These muffins are easy to make and just require a few ingredients. You will need almond flour, Swerve, flaxseed meal, poppyseeds, baking powder, avocado oil, unsweetened almond milk, eggs, and a lemon. They bake for about 20 minutes and you're ready to enjoy. These muffins are only 3g of net carbs!
Keto BLT Breakfast Salad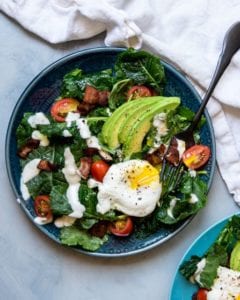 If you aren't a fan of salad for breakfast, this recipe makes a fantastic lunch as well. The BLT Breakfast Salad is easy to meal prep for days in advance and contains simple ingredients.  There are 7 grams of net carbs in the BLT Salad.
The dressing for this salad consists of goat cheese, mayo, white vinegar, and olive oil. The salad itself is made of kale, eggs, bacon, avocado, tomatoes, salt and pepper, vinegar, and olive oil. it's super simple to assemble and tastes amazing! I love recipes like this that are packed with protein and amazing energy sources.
These delicious keto breakfast recipes are the perfect way to start your day off right. These are some of the best keto breakfast recipes you'll find out there. Be sure to check out my cookbooks, Simply Keto and Beyond Simply Keto as well for more easy keto breakfast recipes like fluffy pancakes, egg muffins, keto blueberry muffins, and even a keto breakfast casserole.