Are you new to the ketogenic diet (keto diet) and eager to find easy keto snack ideas? Or maybe you're not new to the keto lifestyle but always looking for a delicious snack (I don't blame you)! Well, look no further. These low carb snacks are made with simple ingredients. My husband and I love them and we know you will too! Everything is easy to make and have on hand throughout the week. Check out our favorites.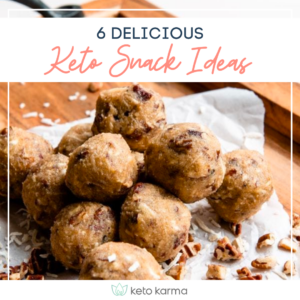 Have a sweet tooth? If you love sweet snacks, you're going to love these pecan fat bombs. The best part? There's actually no added sugar involved! So what makes it sweet? Sugar-free maple syrup! And don't be fooled by its name, it's full of all the good, healthy fats perfect for a keto diet! This simple recipe makes 9 servings so you can prepare this delicious keto snack and be set for the entire week! They are also great to take to work or prepare to share with friends at a gathering.
This healthy snack offers high protein value, making it the perfect way to stick to your low carb diet while also keeping yourself satisfied between meals. These sausage balls are incredibly versatile because you can eat them for breakfast, lunch, or dinner. Most importantly they make a perfect snack! What makes these sausage balls so full of flavor? The cream cheese and cheddar cheese pack a punch! If you're like me, cheese in a dish makes all the difference. Enjoy these any time of day.
This is another great recipe if you love sweets! Not only do these pumpkin cream cheese muffins make for a satisfying snack option, but they make for a satisfying quick breakfast, too! Would you believe they only take 20 minutes to make? This quick snack will be your new go-to favorite! Can't get much better than that! Make these simple muffins any time of year, but they are perfect for the fall months when everyone is craving pumpkin everything. It's not too much pumpkin, just the perfect amount.
Despite being called cornbread, these muffins are void of corn but still offer the same classic cornbread flavor. This bread is made with almond flour so the carb count will remain low! The jalapeno provides a kick of heat if you're a fan of spice and pairing it with cheddar will be a nice way to slightly tame it down. Warm it up, put a little butter on it, and you'll be in heaven! We love serving these as a side for our favorite dishes. Having them on hand as a quick grab snack is convenient too!
If you love a crunchy snack, you will love these delicious keto crackers! The best part? You don't even have to put in the effort to make these cheese crisps. You can have them delivered right to your door! If you're interested in making a purchase, visit DefyFoods.com! They are naturally gluten-free and Ketogenic Certified. They are truly a great snack if you're on-the-go. It can't get much easier than this!
A great way to eat this tasty snack is to use it to dip your carrots, broccoli, cucumber slices, or celery sticks! You might even consider pairing it with keto chips or keto bread. Ideally, you'll have a food processor to help create its smooth consistency. Between the garlic, tahini, and lemon juice, this easy recipe is full of flavor. I love anything with cauliflower these days, so this hummus is a go-to all year long. You'll be wishing you had known to make it sooner!
These are truly some of the best keto snacks! Everything is packed with nutritious ingredients that fit right into you ketogenic diet. They satisfy both your sweet and salty cravings without adding too many calories. Try these and many of my other recipes in my Simply Keto and Beyond Simply Keto Cookbooks. Be sure to check these books out as they have 30 day meal plans and tons of amazing recipes for the whole family to enjoy.