One of my favorite things about this Keto Green Goddess Dressing is that it's so versatile. You can use it as a marinade for chicken or shrimp, a dipping sauce for vegetables or steak, or of course, as salad dressing. Never tried this dressing and wondering about it's taste? It's full of herby flavors, and it's creamy and tangy. It packs a punch!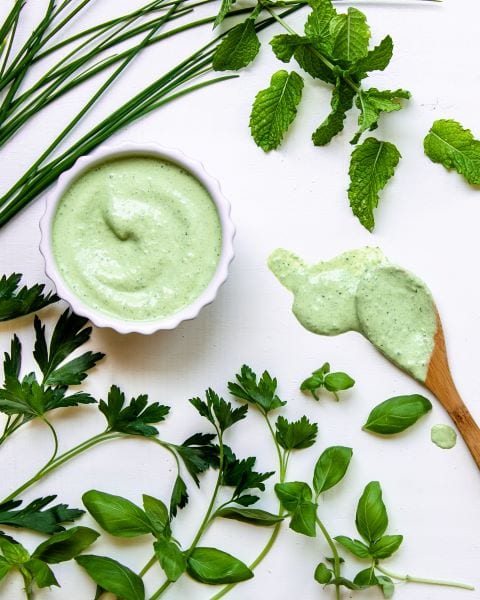 The dressing gets its name from the green tint of the dressing, and also because it's packed with fresh flavors from the green ingredients. There are many different options when it comes to the herbs you can include in this dressing, so don't be afraid to try different herb combos the next time you make this dressing!
Making Keto Green Goddess Dressing
All you need to prepare this dressing is the ingredients and a blender. You'll want to roughly chop the fresh green onions, parsley, chives, basil and mint before measuring them and adding them to the blender. You can throw the garlic cloves in whole (just remove the hard outer layer first!) Add in the anchovy filets whole (I promise that it won't make the dressing taste fishy!). Zest one lemon, and add the zest and juice. Measure out and add in the sour cream, mayo, salt, pepper. Blend well until smooth. Take a taste – it may need more salt and/or pepper.
---
---
Combine all ingredients in a blender and blend until smooth. Keep in the refrigerator for up to 1 week. Use as a marinade for chicken or shrimp, a dipping sauce for vegetables or steak, or a salad dressing. 

If you want to use this as a marinade, you will need to use about 1/2 cup of dressing per pound of whatever meat you are using. Marinade for 1 hour or overnight.

Keep dressing stored in an airtight container in the fridge for up to 1 week.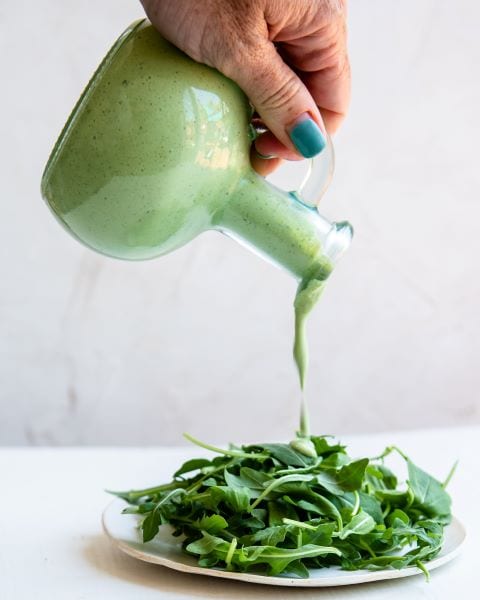 This Keto Green Goddess Dressing recipe makes 16 servings. You can store it in the week for up to a week. It's great for meal prepping because you can use it so many different ways.
One of my favorite ways to serve this dressing is on top of a gorgeous green salad with chicken and lots of fresh keto-friendly veggies. You could also consider this dressing as an easy appetizer if you serve it with a variety of fresh veggies. The dressing with a garden salad would be a quick and easy side to go with my Slow Cooker BBQ Ribs or Cheeseburger Casserole!